Toronto opens on Thursday with one of the top film markets in the world. TheWrap has picked the hottest titles up for sale this year. They are:
February (UTA/CAA) – There's a reason this elevated genre movie was slotted in Toronto's Vanguard section rather than its Midnight Madness lineup. Directed by Anthony Perkins' eldest son Osgood Perkins, who also co-wrote "The Girl in the Photographs," the film stars Kiernan Shipka and Lucy Boynton as prep school students who are assailed by an evil, invisible power when they're stranded at school over winter break. Emma Roberts co-stars as a mysterious young woman making her way towards the school. It sure sounds spooky, but we don't expect buyers to be scared away.
Colonia (UTA)
Emma Watson and Daniel Bruhl star in this period thriller from director Florian Gallenberger that's set during the 1973 coup against Chilean president Salvador Allende. Bruhl plays a graphic artists who supports Allende, and when he's abducted, interrogated and tortured, Watson must pretend to be a loyal follower to a sinister minister played by Michael Nyqvist ("The Girl With the Dragon Tattoo") in order to rescue her boyfriend.
Desierto (UTA)
Jonas Cuaron directed this cat-and-mouse thriller about a patriotic vigilante (Jeffrey Dean Morgan) who takes it upon himself to patrol the Mexican border and hunt a group of would-be illegal immigrants led by Gael Garcia Bernal who are trying to sneak into the United States. This timely tale could leave a mark, which is exactly what buyers are looking for.
Eye In the Sky (WME)
"Tsotsi" director Gavin Hood examines drone warfare with the help of an all-star cast led by Oscar winner Helen Mirren, Aaron Paul, Alan Rickman and Barkhad Abdi. The film questions whether collateral damage is worth the expensive effort to stop terrorism and at what cost. Andrew Niccol's "Good Kill" starring Ethan Hawke explored similar themes, but we expect this timely thriller to feature a wider focus.
The Family Fang (CAA)
Jason Bateman directed this quirky drama in which he and Nicole Kidman play siblings who visit their eccentric parents following an unlikely accident. Christopher Walken and Maryann Plunkett co-star as their parents, whose lifetime of semi-improvised public interventions have alienated their children. The film explores the nature of performance, and the performances are expected to be one of the film's strengths. Buyers are always looking for star-driven films with commercial potential and this one fits the bill.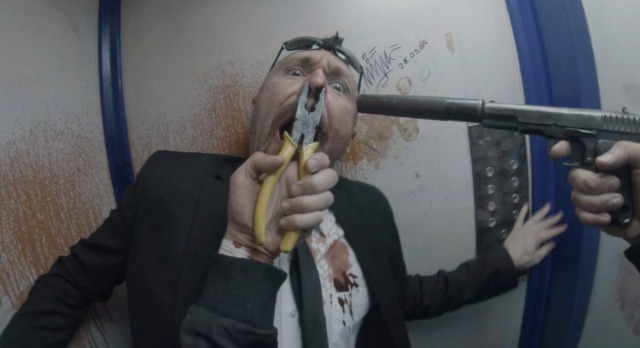 Hardcore (WME)
Shot like a first-person shooter video game, this Midnight Madness selection from director Ilya Naishuller stars Sharlto Copley and rising star Haley Bennett. Naishuller explored the ultra-violent concept in a viral video that racked up 30 million views, proving there's definitely an audience for this kind of unique action movie.
High-Rise (Han Way)
Tom Hiddleston, Jeremy Irons, Sienna Miller and Luke Evans star in this futuristic action drama set in a London apartment tower that becomes the scene of a class war among its tenants. "Kill List" director Ben Wheatley works with his biggest cast yet for this ambitious adaptation of the J.G. Ballard novel. This may be the "coolest" acquisition title available.
Into the Forest (WME)
Ellen Page and Evan Rachel Wood star in Patricia Rozema's adaptation of Jean Hegland's apocalyptic novel. The duo play sisters who struggle to survive in a remote country house after a massive power outage leaves them battling starvation, illness and intruders, not to mention crushing loneliness. If any two actresses can bring a story like that to life, it's these two bright talents.
Maggie's Plan (CAA/Cinetic)
Rebecca Miller directs this love triangle that stars Greta Gerwig as a young woman who wants to have a child, which brings her into the orbit of an unhappy academic (Ethan Hawke) and his eccentric wife (Julianne Moore). The film explores what happens when life doesn't go according to plan and is said to be lighter than Miller's past work, which should help its sale prospects.
Where to Invade Next (WME)
Michael Moore's latest documentary shines the spotlight on the U.S. military and its habit of pushing government agendas on foreign nations. Buyers will be hoping for something closer to "Fahrenheit 9/11" than his last film, "Capitalism: A Love Story." Either way, the Oscar-winning filmmaker is unlikely to disappoint. It's guaranteed to stir up debate… and to sell to a smart distributor who won't shy away from provocative material.