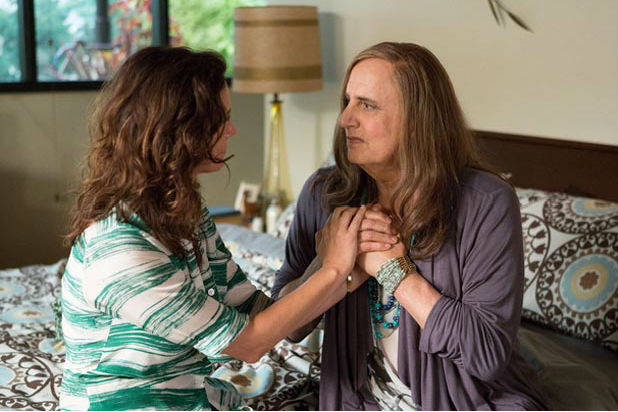 Jeffrey Tambor and his "Transparent" character are both happy for Caitlyn Jenner.
"I think Maura loves a party," Tambor said Monday at the TCA summer press tour when asked how his character, Maura, would react to Caitlyn Jenner's public transition.
"I would have to ask my writer there," he added, indicating series creator Jill Soloway, to his right. "I think Maura would be very empathetic or empathic to that. Unlike me, I'm a little shy, I think Maura would welcome people in her closet."
Also Read: Amazon Renews 'Transparent' for Season 3
Tambor added his own support, saying that he and the show's cast met Jenner. "We have met Caitlyn, and on a personal level, may I speak, we love Caitlyn," he said.
Tambor and Solloway appeared with the show's cast and producers to promote the show's upcoming second season. "Transparent" has been nominated for 11 Primetime Emmy Awards, the most for any comedy. It is the first Amazon original series to be nominated for a Primetime Emmy.
"Transparent" was renewed in June by Amazon for a third season. No premiere date has been set for Season 2.
The Scene at TCA: Funny, Frank and Flippant Quotes From Summer 2015 TV Press Tour (Photos)
Getty Images
Getty Images
Getty Images
Getty Images
Getty Images
Getty Images
Getty Images
Getty Images
Getty Images
Getty Images
Monty Brinton/CBS & Francis Specker/CBS
Getty Images
Getty Images
Getty Images
Getty Images
Getty Images
Getty Images
Getty Images
Getty Images
Getty Images
Getty Images
Getty Images
Getty Images
Getty Images
Getty Images
Getty Images
Getty Images
Getty Images
Getty Images
Getty Images
Getty Images
Getty Images
Getty Images
Getty Images
Getty Images
Getty Images
Getty Images
Getty Images
Getty Images
Getty Images
Getty Images
Getty Images
Getty Images
Getty Images
Getty Images
Getty Images
Getty Images
Getty Images
Getty Images
Getty Images
Getty Images
Getty Images
Getty Images
Getty Images
Getty Images
Getty Images
Getty Images
Getty Images
Getty Images
Getty Images
Getty Images
Getty Images
Getty Images
Getty Images
Getty Images
Getty Images
1 of 67

TV stars and executives offer pearls of wisdom at the annual Television Critics Association Summer Press Tour