The Tribune Company announced some of its 2010 financial results on Wednesday — reporting improved revenues and a $140 million increase in cash flow, a 29 percent bump due mostly to a strong performance by its local television stations.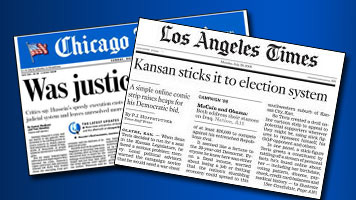 But the privately-held company said cash flow at its two largest business units — the Los Angeles Times and Chicago Tribune — was essentially flat. "Despite a difficult environment for print advertising," the company said, "the rate of decline in both revenue and operating cash flow slowed significantly compared to 2009."
Also read: Will Tribune Co. Sell its Newspapers Post-Bankruptcy?
Tribune Co., currently ensconced in a drawn-out bankruptcy case, praised "the great work of thousands of employees, who continue transforming the company from a collection of newspapers and broadcast stations to a media company with innovative products providing news, information and entertainment across multiple platforms."
Despite the financial improvements, the company warned the company said that 2011 "will remain challenging due to reduced political advertising in broadcasting and continued pressure on print advertising, particularly in the national advertising
category."
Late Tuesday, the company filed its financials with the U.S. Bankruptcy Court in Delaware. A judge is expected to approve a reorganization plan in March.
Last week, TheWrap reported one outcome of the bankruptcy case could be that the Tribune Co.'s new owner or owners opt to sell its newspaper division.
"Now it is time to move forward into 2011," the company's four-member executive committee wrote in a memo to Tribune employees. "This will be a challenging year due to a number of factors … But, there is also a lot of opportunity ahead. We are organized for success, finding new ways to serve our customers, and working together as one company — but we have to continue to work smart, innovate and be efficient."