President Trump's proposed revamp of legal immigration might already lessen the U.S. population by one, if the Anne Frank Center has its way.
Reacting to White House adviser Miller's fiery comments about the Statue of Liberty — and, in particular, the Emma Lazarus poem that accompanies the statue — during a press conference on Wednesday, Anne Frank Center for Mutual Respect executive director Steven Goldstein suggested that Miller's ignorance deems him ineligible for American citizenship and counseled him, "please leave."
"Stephen Miller has turned himself simultaneously into a Statue of Arrogance and a National Monument of Ignorance," Goldstein said in a statement issue Wednesday. "His subpar knowledge of American history, as reflected in Emma Lazarus' poem, means he couldn't pass President Trump's new immigration test. Therefore, Stephen, please leave."
---
Also Read: Trump Adviser Stephen Miller Slams CNN's Jim Acosta to His Face: 'Ignorant and Foolish' (Video)
---
Here is our full statement on Stephen Miller's grotesque statement calling Emma Lazarus poem's on the Statue of Liberty "meaningless." pic.twitter.com/5tAn92ecqk

— Anne Frank Center (@AnneFrankCenter) August 2, 2017
Miller steered Wednesday's press conference into trainwreck territory while engaging in a heated exchange with CNN's Jim Acosta, who said that Trump's plan "does not sound like it's keeping with American tradition" on immigration before reading a passage from the Statue of Liberty poem, noting that it "doesn't say anything about speaking English."
"Jim, I appreciate your speech so, let's talk about this," Miller said before mocking the CNN reporter with a series of sarcastic, rhetorical questions.
Miller asked, "The notion that you actually think immigration isn't a historic law … do you really, at CNN, not know the difference between Green Card policy and illegal immigration? You really don't know that?"
---
Also Read: White House Adviser Stephen Miller's Santa Monica High School Classmates Wonder 'WTF?'
---
Acosta criticized the notion that immigrants need to learn English before coming to America, asking if only people from England and Australia will be allowed into the country.
"I am shocked at your statement that you think that only people from Great Britain and Australia would know English," Miller responded. "It reveals your cosmopolitan bias to a shocking degree… in your mind, this is an amazing moment. This is an amazing moment that you think only people from Great Britain or Australia would speak English is so insulting to millions of hard working immigrants that do speak English from all over the world."
During the exchange, Miller also contended that the Lazarus poem is "not actually part of the original Statue of Liberty."
---
Also Read: Joe Scarborough, Steve Bannon Trade Jabs Over Trump's Senior Policy Adviser
---
"The Statue of Liberty is a symbol of liberty enlightening the world," Miller said. "It's a symbol of American liberty lighting the world. The poem that you're referring to was added later. It's not actually a part of the Statue of Liberty," a claim that Acosta characterized as "national park revisionism."
In case you missed it, watch the exchange in the video below.
Stephen Miller: 8 Late-Night Insults for Trump's 'Basic Henchman' (Photos)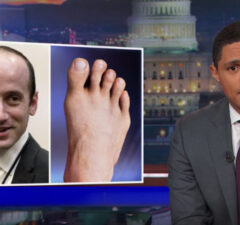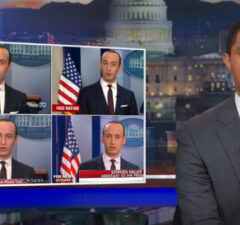 (Tap photo and swipe to view gallery)