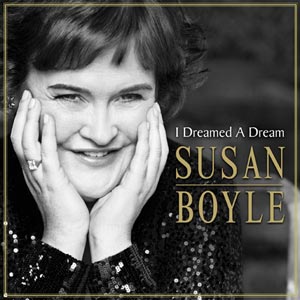 On the heels of the release of her debut CD, which has become the most pre-ordered album of all time, Susan Boyle will star in a one-hour TV special on TV Guide Network.
"I Dreamed a Dream: The Susan Boyle Story" has its world premiere on Sunday, Dec. 13, on the U.K.'s ITV1. It then has its U.S. premiere at 8 p.m. that night on TV Guide Network.
The show will trace Boyle's journey from a small village in rural Scotland to international fame after her performance on reality competition show "Britain's Got Talent."
"Susan Boyle is one of those rare personalities who has captivated millions of fans around the world with her undeniable vocal talent and incredible life story," Ryan O'Hara, president of TV Guide Network and TVGuide.com, said in a statement. "For the first time ever, fans will have an opportunity to see Susan Boyle shine on stage in her own spotlight, witness amazing musical performances in a concert setting, as well as gain insight into the challenges she overcame as she rose to an international phenomenon."
The special is a co-production between talkbackTHAMES, the U.K. production company owned by FremantleMedia, and Simon Cowell's Syco TV.
It will include interviews with Boyle and Cowell, as well as performances with special guests.
Boyle will perform songs from her new CD including "Cry Me a River" and the Rolling Stones classic "Wild Horses." Also included in the show is a performance of the song that launched her to global superstardom, "I Dreamed a Dream," with the West End cast of "Les Miserables."