With Thanksgiving just days away, heads of households and network chiefs alike are finalizing their family toasts. Should the execs raise a few too many glasses before it's actually time for grace, we're here to remind everyone of the TV shows each should be most thankful for.
All numbers in this story come from Nielsen's "most current" ratings demographic, which includes a week's worth of delayed viewing where available.
NBC
It's no surprise that NBC's "Sunday Night Football" is TV's top series again this season, with a 7.6 rating among adults 18-49 and 19.6 million total viewers. It's also no shocker that the net's "This Is Us" is the highest-rated (3.9) entertainment show.
What readers might not know though is that freshman series "Manifest" actually averages more total viewers (13.9 million) than does the Pearson-clan drama (13.8 million). Robert Zemeckis and the "Lost"-like series' other executive producers can thank the 10 p.m. show's delayed-viewing lifts for those bragging rights.
Also Read: Ratings: 'Manifest' Descends From Last Week
CBS
Nope, not you, "NCIS." "The Big Bang Theory" is the most-watched entertainment show on television, hauling in an average of 16.1 million viewers each week — that's 773,000 viewers higher than the next-best series, "NCIS."
With a 3.3 rating among adults 18-49, "BBT" is also the highest-rated comedy on all of TV. Good thing "Roseanne" didn't come back (as "Roseanne").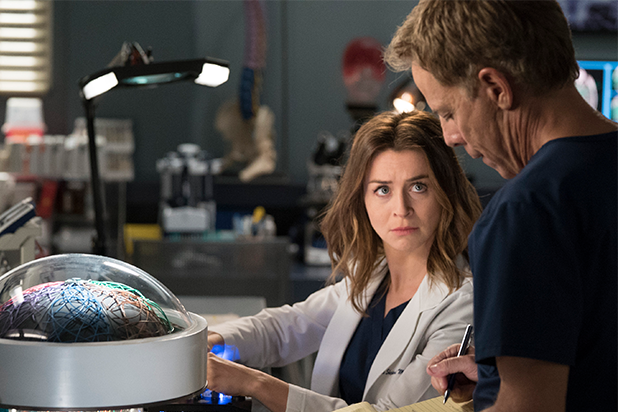 ABC
ABC continues to do it with a pair of hospital procedurals.
With a 2.7 rating, "Grey's Anatomy" is ABC's highest-rated series of the 2018-19 season. Sophomore drama "The Good Doctor" actually averages more total viewers, however, with 11.1 million. Healthy.
Also Read: 'The Alec Baldwin Show' Banished to Saturdays by ABC
Fox
Fox has had a ratings emergency as of late — what it got was "9-1-1." The network's top show, which hails from Ryan Murphy, averages a 2.5 rating and 9.6 million total viewers. Hell, that's good enough to beat "Empire."
If we included sports in this, NFL postgame show "The OT" would be No. 1 with a 4.8 and 12.3 million viewers. Every network loves a good Sunday afternoon overrun.
The CW
Not yet, "Riverdale." "The Flash" is still CW's biggest show, averaging a 1.0 rating and 2.6 million total viewers.
Also Read: ABC's Channing Dungey Says Kenya Barris Was 'Frustrated' by Limitations of Broadcast TV
Bless you all for thy broadcast bounty, and enjoy your leftovers (reruns next week) everyone.