The steamy young vampires of "Twilight Saga: Breaking Dawn — Part 2" conquered the box office world this weekend, taking a $141 million bite domestically and another $200 million overseas. That's $341 million worldwide in five days of release.
The U.S. opening tops the $138 million debut of last year's "Breaking Dawn — Part 1" and, when the final figures on Sunday attendance come in, could surpass the domestic debut of 2009's "The Twilight Saga: New Moon," which at $142 million was the previous best bow in the series.
The busy box office weekend was running 15 percent ahead of last year when "Breaking Dawn 1" led the way. Last week's No. 1 film "Skyfall" was No. 2 with $41.5 million and in the process became the biggest-grossing James Bond film of all time. Oscar contender "Lincoln" was third with a surprisingly strong $21 million in its nationwide debut.
Also read: Adios, 'Twilight' – Studios Stockpiling Young-Adult Novels in Search of the Next Blockbuster
Summit Entertainment's "Breaking Dawn 2" played to form in the U.S., with 79 percent of the audience female and 50 percent under 25. The crowds loved it, giving it an "A" CinemaScore.
That overseas grosses outstripped the domestic haul isn't a surprise. This will be the biggest "Twilight" movie ever at the box office and the foreign grosses will be the driving force, according to BoxOffice.com editor-in-chief Phil Contrino, who sees "Breaking Dawn 2" passing the billion-dollar mark globally.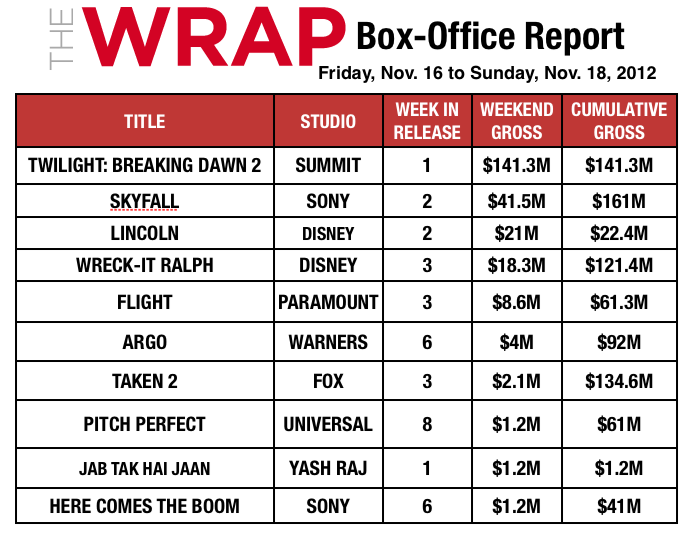 "These franchise films build and build overseas, and then they explode," Contrino said, and tracking and social media suggest "Breaking Dawn – Part 2" is ready to blow. The foreign haul could go as high as $800 million, he said.
Also read: 'Twilight' Stars: What's Next, Now That the Sun Has Set
That would nearly double the international take of last year's "Breaking Dawn 1," which took in $423 million overseas on top of $281 million domestically for a $705 million worldwide gross. "New Moon" the took in $709 million worldwide, with domestic accounting for $296 million and foreign $423 million. '
The final film in the "Twilight" series centers on Bella (Kristen Stewart) grappling with her newfound vampire powers and new baby. Robert Pattinson returns as the brooding vampire Edward, while Taylor Lautner and his abs are back as the werewolf Jacob. Bill Condon directed and it was adapted for the screen by franchise scribe Melissa Rosenberg.
With the big showing by "Breaking Dawn 2,' which had a production budget of $120 million, Summit parent Lionsgate topped the $1 billion mark at the domestic box office for the first time at $1.09 billion.
Sony's James Bond thriller "Skyfall" took in $41.5 million from 3,505 locations in its second weekend, for an impressive $11,840 per-screen average. That brings the overall domestic gross for "Skyfall," which stars Daniel Craig as super spy 007, to $161 million. .
With its overseas haul added in, "Skyfall" is now the highest-grossing James Bond film ever, and Sony Pictures Entertainment has posted its best box-office year ever with more than $4 billion worldwide. "Skyfall," the 23rd James Bond adventure, raised it overall worldwide box office total to $669.2 million, passing the $599.2 million worldwide total taken in by "Casino Royale" in 2006.
It was a postive weekend for Disney, which is the domestic distributor for DreamWorks and Participant Media's "Lincoln." The Steven Spielberg-directed historical drama expanded from 11 theaters to 1,775 this weekend and managed an impressive $11,831 per-screen average.
"Lincoln" is considered a front-runner in the Best Picture Oscar race, and Daniel Day-Lewis, who plays the president, is considered a lock for a Best Actor nomination (he's won twice already). Spielberg will be in the hunt for Best Director, too.
Couples accounted for 84 percent of the "Lincoln" audience, which was 67 percent over 35 years of age and 53 percent male. It received an "A" CinemaScore. Disney plans to add another roughly 200 theaters Wednesday.
The studio's animated homage to classic video games, "Wreck-It Ralph," was the No. 4 film with $18.3 million from 3,662 theaters and raised its domestic gross to $121 million after three weeks.
Paramount's Denzel Washington thriller "Flight" added $8.6 million in its third week for fifth place and now has taken $61 million after three weeks in domestic release.