When it comes to bang for the buck, "Twilight" may be Hollywood's most successful franchise.
In racking up over $1.1 billion at the worldwide box office, the series has put the tiny upstart studio Summit on the map and demonstrated that billion-dollar grosses can happen even on a bargain budget.
Just take a gander at those profit margins.
(See slideshow: Ab-tastic: Taylor Lautner's Millon-Dollar Muscles)
The first movie in the franchise — 2009's "Twilight — cost $37 million and grossed $392.5 worldwide, roughly 10 times its production costs. Its sequel, "New Moon," was an even bigger success, banking $709.7 million worldwide, while costing $50 million to produce. That represents a 14-fold return on Summit's investment.
The third installment, "Eclipse," hits theaters Wednesday, and though the budget grew to $68 million, the film is projected to earn $175 million from Wednesday to Sunday, according to Jeff Hartke an analyst at the Hollywood Stock Exchange.
"It represents a fundamental paradigm shift — one that producers all over Hollywood are scrambling to understand and leverage," said Jeff Gomez, CEO of Starlight Entertainment, who has consulted on franchises such as "Pirates of the Caribbean." "They're going to make their budget back in 24 hours."
(Read also: Eclipse's' Slade: They Just Told Me Don't Make Edward Ugly)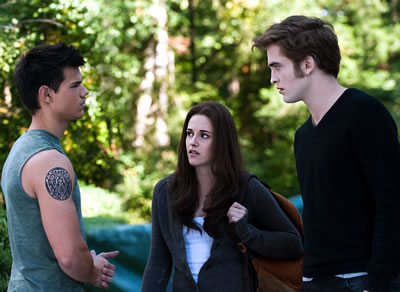 "Pirates of the Caribbean," "Harry Potter" and "Lord of the Rings" dwarf the "Twilight" films in terms of worldwide gross, but it took an awful lot of green to get them there.
The first installments of each of those series all cost in the $100 million range. That figure only continued to grow at a staggering pace. For instance, by the time "Pirates" reached its third installment, "At World's End," production costs topped out at $300 million.
"At World's End" was so costly that it actually lost money on its domestic release.
What's all the more astonishing is that the "Twilight" films were made with relatively unknown actors, few special effects and a budget that, at least on the first film, would barely pay for craft services on a Jerry Bruckheimer picture.
So what's "Twilight's" secret ingredient? What it does have is a timeless love story that strikes a chord with an audience that Hollywood often ignores — teenage girls.
"These are based on archetypal characters, and they have clear messages that resonate with a clear target audience," Vinny Bruzzese, president of the motion picture division for the research firm OTX, told TheWrap. "It costs more to blow up helicopter than have two people kiss, but both drive different audiences to the theater. It shows that young females can open a movie."
To be sure, costs will rise exponentially on the fourth and fifth installments in the saga, with the budget expected to flirt with $100 million. But that is the inevitable result of more parties demanding a bigger slice of the pie. Not just the stars, but frequently the production team get raises and perks to coax them to return, according to Robert Myman, an entertainment attorney who has negotiated film contracts in the past.
Even if a studio has an actor on contract for several films in a series, they may have to sweeten the pot.
"We would ask for more money, they would talk about sanctity of contract, we would talk about their contribution to the success of the first film and the fairness of giving them a raise," Myman told TheWrap.
That happened on "Breaking Dawn." Though the salaries for the top three actors have not been released, they were increased once the studio decided to make two movies out of the massive book. The studio wisely locked up Pattinson and Stewart for the franchise for a reported $12 million, according to Forbes, which is far less than the over $20 million Daniel Radcliffe made for his role in the final installments of "Harry Potter."
Their re-negotiated salaries are a tightly kept secret, but to give some sense of how much all of their fees must have increased, Kellan Lutz and Ashley Greene were able to parlay their minor supporting roles into a $1.25 million payday.
Summit also tapped into new media to help it compete with bigger studios and to spend conservatively on marketing the vampire romance. Even before most people had heard of the films, Summit was busy laying the ground work for "Twilight"s' release, creating chat rooms and fan pages. The studio also cleverly catered to its audience by releasing advance footage and interviews as part of a weekly series on MTV called "Twilight Tuesdays." (Summit refused to comment for this article.)
Though Summit has kept spending down by using viral and online marketing, it has shown a willingness to be a little looser with the purse strings as the franchise has progressed. The studio will spend $50 million selling "Eclipse," roughly as much as it spent to produce the picture.
Merchandising has been another bonanza, with the "Twilight" trio gracing everything from posters to stickers to Burger King happy meals. So popular did its merchandise prove, in fact, that it almost single-handedly rescued the teen apparel store Hot Topic.
"When you appear on Burger King and cereal boxes then you've arrived," Jeff Bock, an analyst with Exhibitor Relations, told TheWrap.
"Most surprising, they've almost single handedly revived the moribund soundtrack industry. The first film sold 2.6 million albums, and the second sold 1.2 million, according to Nielsen SoundScan. The third album had already sold 200,000 copies before the film opened.
In comparison, "Iron Man 2" with it AC/DC heavy soundtrack only sold 330,000 albums.
"It harkens back to '80s soundtracks," Keith Caulfield, senior chart manager and analyst at Billboard. "Certain film music is really important, like 'Top Gun' or 'Footloose,' where we can't really think of scenes without music. The 'Twilight' films are like that"
That's not even taking into account DVD sales. "Twilight" was the top-selling DVD in 2009, selling more than 10.2 million copies and becoming the top-selling disc of 2009. "New Moon" has sold 7.2 million DVDs since it was released this spring.
And Summit is showing signs that thinks "Twilight" still hasn't reached its full potential. In an effort to grow its film base, the studio is playing up the action sequences in trailers — as part of a none-too-subtle bid to attract boys to the theaters.
That's smart business, given that "New Moon" drew an 80 percent female audience to its record opening weekend.
"They've hit a glass ceiling with the female demographic, but there's still a whole male demographic that hasn't been tapped into," Bock told TheWrap. "That's all gravy."