CBS has renewed "Two and a Half Men" for a tenth season after reaching new deals with stars Jon Cryer, Angus T. Jones and Ashton Kutcher.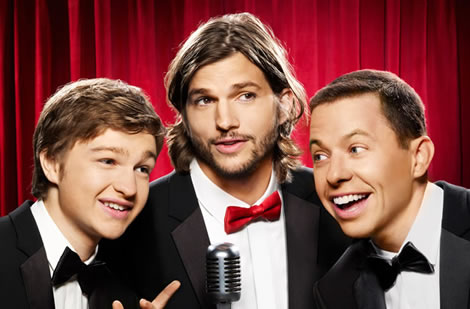 The revamped "Two and a Half Men" has performed solidly for the network since Kutcher replaced Charlie Sheen, who was fired last year following months of erratic behavior and public mockery of Chuck Lorre, the show's co-creator.
Also read: "Two and a Half Men" Ratings Surge Validates Decision to Bring Show Back
This season, it has averaged a 5.2 rating/13 share in the advertiser-coveted 18-49 demographic, a 27 percent improvement over the previous season, and 15 million total viewers.
The ninth season premiere of "Two and a Half Men" in September featuring Kutcher's initial appearance drew a jaw-dropping 27.7 million total viewers, and a 10.3/24 in the demo.
Also read: Ashton Kutcher "Brownface" Ad With Indian Character "Raj" Pulled (Video)
The network had earlier renewed 18 of its other series, including "How I Met Your Mother," "2 Broke Girls," "Mike & Molly" and "The Big Bang Theory."