The coup that brought Newsweek star Fareed Zakaria to arch-rival Time Magazine this month signals a shift at the top of Time Warner: Could CEO Jeff Bewkes, media's most un-mogul-like mogul, have finally discovered his mojo?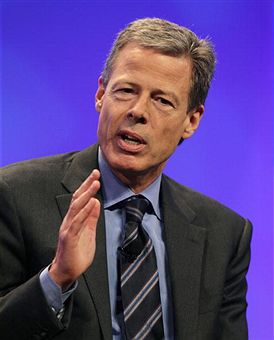 With the wooing of his close buddy and fellow Yale trustee Zakaria, Bewkes is firmly embracing a media business — magazines — after years of jettisoning one media segment after another.
That comes on the heels of other Bewkes initiatives, from installing former NBC star Conan O'Brien in late night at TBS to a new "Marketing Initiative," a cross-company task force charged with maximizing content, products and talent across Time Warner's vast breadth.
That's big change for a Balkanized conglomerate notorious for its warring media fiefdoms. The new spirit of harmony "absolutely represents a cultural shift" in the past 12 to 18 months, as Bewkes finished downsizing, said Mark D'Arcy, president and chief creative officer of Time Warner Global Media, who also heads the marketing initiative task force.
"It all stems from Jeff," D'Arcy told TheWrap.
As was the bold recruiting of Zakaria, one of the most influential global affairs stars in all of media, whose name has been bandied as a future secretary of state.
"Jeff Bewkes is a friend, someone I've known for years," Zakaria told The Wrap. "He is also one of the smartest businessmen I've ever met … He has a better sense of how to navigate the changing media landscape than anyone I've talked to about it."
Before Bewkes arrived in 2002 at headquarters, a Columbus Circle landmark, Zakaria's arrival couldn't
have happened.
Zakaria suggested to TheWrap that Bewkes was a major reason that he he jumped (though Newsweek's declining fortunes clearly provided a nudge.) The pair have more than mutual admiration in common – they are fellow members of the influential Council on Foreign Relations; and since 2006, the Yale alums also have been trustees of the university.
And according to a high-ranking executive close to both, Bewkes once sought Zakaria's help on his desire to invest in a multibillion-dollar hedge fund run by the journalist's brother, Arshad.
(See sidebar: The Hedge Fund Ties That Bind Bewkes and Zakaria).
Neither Time-Warner nor Bewkes nor HBO co-president Richard Plepler, who also sought to invest, would discuss details – though they did not deny that part of their connection.
But the clarion message sent by Zakaria's hire is that Bewkes' makeover of Time Warner will include a big role for its magazine division. No lucid CEO would hire a buddy known the world over only to sell the company from beneath him.
It also signals that Bewkes' cross-departmental initiative is taking hold.
It would've been a nonstarter merely to negotiate with Zakaria in the old Time Warner model. Now a story by Zakaria should seamlessly migrate across the multi-platforms of a streamlined and sharply focused content behemoth. For instance, a Zakaria cover story for Time could fuel the talk on his two-year-old CNN Sunday chat show, "Fareed Zakaria GPS," before getting deep-dive treatment in a HBO documentary, where he is a consultant.
"Fareed is one of a small handful of global public intellectuals, and he has proven how important his thinking and writing is, over and over, especially since the attacks of Sept. 11," Richard Stengel, Time managing editor, told the New York Times. Stengel added that he'd discussed the possible move for some time with the 46-year-old journalist, who also is a best-selling author.
Still, Zakaria's must-read journalism won't be the first actual major road test of the new spirit of trans-corporation cooperation. According to senior Time Warner executives, that distinction will surround the November launch of O'Brien's show, which D'Arcy described as "a transformational opportunity" for Time Warner.
"All of Time Warner will be working on his behalf, " he said.
Almost from the day of his promotion to Time Warner from the helm of HBO, Bewkes began dismantling Time Warner, arguably the template for Big Media. (Exhibit A: Comcast's proposal to control NBC Universal.) But Time Warner never came close to fulfilling the promise of becoming a synergistic juggernaut dominant from music and cartoons to news, the box office and bestsellers.
After the 2001 combination with AOL, it all nearly came crashing down, which set the stage for Bewkes' corporate rise; and he's been busy pulling it apart since 2002, when he began to successfully engineer the sale or spinoff of Warner Music Group, Time Warner Book Group, the Time Warner Cable operations and lastly, in late 2009, the disastrous AOL.
All that was left was HBO, the Turner networks, Warner Bros. studio and — though bearing the aura of an orphaned asset — Time Inc.
If Bewkes ever contemplated divesting the corporate namesake, the world's largest magazine publisher, recent developments leave little doubt about the bosses' newfound belief in the future of that business.
Among other things, he's been buoyed by Time Warner's August 4 earnings report for the second quarter. It confirmed an advertising and profit rebound at Time Inc. from a devastating industry-wide recession. Just days later, after an assiduous courtship, Bewkes snared an executive from rival publisher Meredith Corp., Jack Griffin, to succeed the retiring Time Inc.'s retiring CEO, Ann Moore. Griffin spurned a counter offer to be CEO of Meredith, preferring Manhattan to Des Moines, executives familiar with the situation confirm to The Wrap.
Meanwhile, Bewkes has been deeply involved in negotiations between Time Inc. and Apple to resolve a dispute over iPad apps for the magazine giant's subscribers, TheWrap has learned. Although negotiations are continuing, the two sides agreed last week that subscribers to Time Inc.'s People magazine can freely download the magazine's app at the iPad app store. The arrangement appears to be a partial solution — at least for Time Inc. — to a broader industry dispute with Apple concerning availability of subscriptions via the store.
Surely, Bewkes now has a Zakaria iPad app in the pipeline.