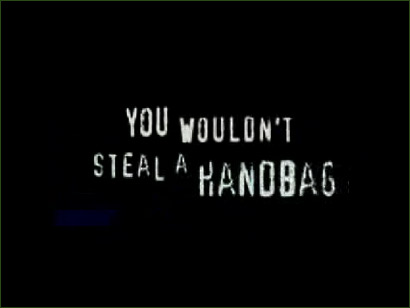 A broad coalition of entertainment industry companies, trade groups, Internet services and telecommunications providers have joined to launch a new warning system to tell consumers when they have downloaded copyrighted material illegally, they announced on Thursday.
Under the new measures, illegal downloaders could find their ability to surf the web restricted for a time — though now the coalition maintains have their access to the Internet terminated indefinitely.
If a few well-timed slaps on the wrist don't stop users from stocking up on pirated movies or music, Internet providers can temporarily slow or limit web access.
The coalition includes the Motion Picture Association of America (MPAA), the Recording Industry of America(RIAA), industry trade groups and Internet, phone and cable companies including AT&T, Cablevision Systems Corp., Comcast Corp., Time Warner Cable, and Verizon.
They are calling it the "Copyright Alert System."
Said Cary Sherman, President of RIAA: "It is a significant step forward not only for the creative community, which invests in and brings great entertainment to the public, but for consumers and the legitimate online marketplace as well."
But it is not, the coalition maintains, analogous to the controversial "three strikes" policies adopted in some European countries that bar Internet access to users who violate copyright protections repeatedly.
"This is not a three strikes plan. It creates no new laws or legal procedures," Tom Dailey, Deputy General Counsel for Verizon, said on a conference call with the media.
The primary distinction seems to be, however, that this is not being floated as a law, but as a series of 'best practices" that internet providers will implement voluntarily. On the call, coalition members said they will not be pushing for new legislation stemming from this initiative.
Perhaps the most important element, is that the entertainment industry has secured the participation of Internet providers, who studios and record companies have long complained have been largely indifferent to the problem of digital piracy.
In a conference call with the media immediately after the announcement, coalition members portrayed the move as an educational, not a punitive one.
Dailey said on the call that the system was designed to "educate and inform customers, not to penalize them."
In the new system, users will be directed to a landing page after receiving five to six warnings. That page will require them to contact their Internet providers or respond to some educational materials. Before their Internet access is restricted, users do have the option of requesting an independent review at a cost of $35.
These copyright infringement warnings are being likened to alerts that consumers receive when their credit cards have been compromised. The alerts will be sent out under the newly created Center for Copyright Information, which will include the six major studios, record labels such as Warner and EMI, and Internet giants such as Time Warner Cable and Cablevision. Along with the MPAA and the RIAA, the Independent Film and Television Alliance (IFTA) is also involved.
The group contends that online piracy is not just an industry issue. According to the coalition's statistics, it costs the U.S. economy 373,000 jobs, $16 billion in lost earnings and $3 billion in tax revenues.
On the call, Michael O'Leary, Executive Vice President for Government Relations at the MPAA, said the initiative represents the industry and ISPs "…working to address in a constructive way a problem which drains our economy of billions of dollars each year."
If true those are sobering statistics, though ignorance has not previously been offered up as one of the major causes of online piracy. Yet, in a release touting the move, the groups contend that many Internet users are not aware that they have downloaded material illegally or may have children are other family members who are using their ISP to get pirated movies or recordings. They may also not know about the possible legal consequences of their actions, the group maintains.
The group says that studies suggest that 70 percent of people would stop content theft once they learn about the possible penalties.
"I tend to believe people want to do the right thing," O' Leary said on the conference call.
"There are a number of legitimate alternatives," he added.
Still the approach is bound to raise the ire of Internet rights groups, who will likely contend that it is a way to punish illegal downloaders without going through the trouble of passing any new laws.
It is yet another sign of the entertainment industry's obsession with the problem of digital piracy. With heavy lobbying by the MPAA and other guilds and trade groups, the Senate Judiciary Committee recently approved the Protect IP Act. A controversial measure that would block foreign websites that traffic in illegal downloads.