Megan Fox arrived on the set of "Transformers 3" looking too "pale," "underweight" and "unhealthy" for director Michael Bay's taste, ratcheting up tensions that ultimately pushed her to walk away, TheWrap has learned.
Bay gave Fox some time to pull her appearance together, but when she returned, the director expressed his displeasure in such a way that Fox walked off the blockbuster sequel, according to individuals close to the production. The people spoke to TheWrap on condition of anonymity because of the sensitivity of the situation.
TheWrap has also learned that British model Rosie Huntington-Whitely (pictured right) has won the approval of Steven Spielberg, executive producer of the "Transformers" franchise — putting her firmly in place to take over the female lead role.
Fox came to work as a "size 0" and Bay gave her two to four weeks to return to a "size 2 or 4" so she would have the same sexy curves that Bay's camera lingered on in the original "Transformers," TheWrap was told.
When Fox was unable to regain her previous physical form, Bay objected, and with that, Fox "
had enough
."
When reached for comment, Fox's representatives told TheWrap, "We disagree with the assessment about her weight. She looks healthy and happy."
Paramount initially stated that it declined to pick up Fox's option because the screenplay had organically developed in a way that excluded her. While it's technically true that Paramount declined to pick up Fox's option, it was because the actress had already decided to walk away.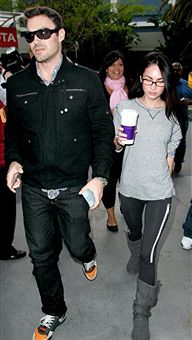 Ehren Kruger's screenplay reportedly still featured Fox's character, Mikaela Banes, as recently as May 17 (
Getty photo at left shows Fox on that day
), when Paramount began production on "Transformers 3" in Los Angeles.
Deal Central has heard insider rumblings that the entire ordeal of names being leaked to various media outlets was a scare tactic designed to show Fox that she is, in fact, replaceable. The ostensible reason for that: to convince the actress to set aside her differences with Bay and return to the franchise that made her a star.
However, now it seems that the situation is much more serious, and Huntington-Whitely is expected to get the role before the end of the week now that Spielberg is on board with the casting.
To be fair, Bay is known for having impossibly high standards of beauty for his leading ladies, which may be why he is close to replacing Fox with a supermodel who has never acted before. An individual close to the sequel's production previously told
TheWrap
that Bay "wants his actresses to look a certain way, and if they can't meet his absurd standards of beauty, he gets rid of them." That seems to be what has happened with "Transformers 3," except in this case, the actress chose to leave the project before Bay could further demean her appearance.
Fans are clamoring for Fox's return — but it doesn't look like a reconciliation is in the cards, meaning Bay will get a chance to launch another fresh face.
Huntington-Whitely is currently dating Jason Statham, and would play Shia LaBeouf's love interest in "Transformers 3." The new character begins shooting scenes with LaBeouf in less than two weeks.
Interestingly enough, the insiders who spoke with TheWrap say LaBeouf "isn't happy" that Fox is being replaced by a model with no acting experience. LaBeouf recently made waves throughout Hollywood by publicly dissing Steven Spielberg's "Indiana Jones and the Kingdom of the Crystal Skull" while at the Cannes Film Festival to promote Oliver Stone's "Wall Street 2: Money Never Sleeps."
AICN
first mentioned Huntington-Whitely as a potential replacement last week, and on May 21,
GeekWeek
reported that she had emerged as the front-runner to land the role, beating out candidates
such as
Sarah Wright ("The House Bunny") and Sports Illustrated swimsuit issue model/actress Brooklyn Decker, who
TheWrap
first reported was being considered for the plum part, having performed well in a supporting role in the Adam Sandler-Jennifer Aniston comedy "Just Go With It."