Universal Pictures is in negotiations to option the rights to an untitled project based on the relationship between John Lennon and Yoko Ono, an individual with knowledge of the project told TheWrap.
Universal will acquire the spec package from Michael De Luca Productions and Immersive Pictures which was written by Academy Award nominee Anthony McCarten ("The Theory of Everything") for Jean-Marc Vallée ("Dallas Buyers Club," "Wild") to direct.
Ono will produce alongside Michael De Luca for his eponymous production company along with Immersive Pictures' Josh Bratman and McCarten.
---
Also Read:
John Lennon and Paul McCartney's Sons Come Together for a Selfie (Photo)
---
Vallée and producing partner Nathan Ross will also produce through their production company, Crazyrose. It will mark Vallée's first film since directing all episodes of HBO's "Big Little Lies" and "Sharp Objects."
The spec script focuses on Lennon and Ono's love story and themes of love, courage, activism, and peace — both inner and outer. Bratman lobbied Ono to bring the story of her relationship with Lennon to the screen with De Luca, and McCarten worked with all three to write the story. Ross responded to the project and sent to Vallée, who then met with Ono. She immediately connected with the artistry of his work and vision of a love story for the ages.
Formerly of ICM Partners, Bruce Kaufman of Wood Hollow Pictures, who specializes in high-profile music-driven dramas, will executive produce.
---
Also Read:
Paul McCartney Remembers John Lennon, Best Friend 'Killed in Gun Violence' (Video)
---
Vallée and Ross are represented by David Weber of Sloane, Offer, Weber & Dern LLP.
McCarten is represented by CAA and Myman Greenspan Fox Rosenberg Mobasser Younger & Light LLP.
Ono is represented by Jonas Herbsman of Shukat Arrow Hafer Weber & Herbsman LLP.
Deadline was first to report this news.
9 John Lennon Quotes That Still Pack a Punch (Photos)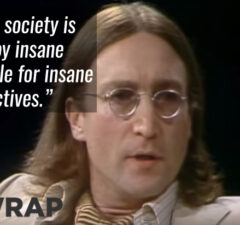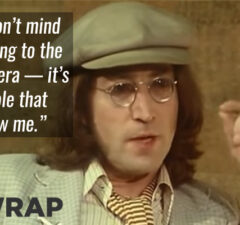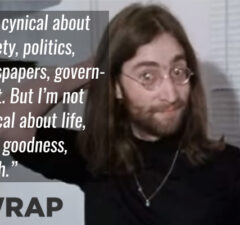 (Tap photo and swipe to view gallery)