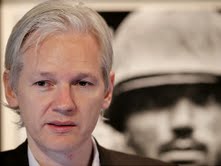 Universal Pictures has bought the rights to a documentary about Wikileaks founder Julian Assange, TheWrap has confirmed. Academy Award-winning documentarian Alex Gibney will direct.
Marc Shmuger, Universal's former chairman, will produce the film with Gibney.
Terms of the deal were not disclosed.
Gibney has a history of making movies about politically charged subjects, including "Enron: The Smartest Guys in the Room" and "Client 9: The Rise and Fall of Eliot Spitzer." He won the 2007 Academy Award for Best Documentary Feature for "Taxi to the Dark Side," a film about an innocent taxi driver who was tortured and killed at Bagram Air Force Base in Afghanistan.
This is not the only Assange-themed project drawing interest at Sundance. "Page One," which chronicles a year in the life of The New York Times, has generated great buzz and also focuses on that paper's decisions to publish portions of the Wikileaks documents.
On Thursday, Josephson Entertainment and Michelle Krumm productions announced that they have optioned a still-to-be published biography about Assange.
Shmuger left Universal in 2009 after more than three years as chairman. He has since reemerged as a producer.
News of the pickup was first reported on Deadline.