Universal Pictures is enjoying a record box office year with hits like "Jurassic World" and "Furious 7," but the studio has a monster cash earner that has outgrossed even the studio's biggest movie by more than a billion dollars.
And it's a stage musical.
"Wicked," the beloved prequel to "The Wizard of Oz," has grossed more than $3 billion, producer Marc Platt told TheWrap in an interview this week.
"It may just be over $3 billion now," Platt told TheWrap. "That's the gross number, but yes, in terms of its profits and the margin, it's extremely significant in the history of Universal, which is its largest investor."

Also Read: Universal Shatters Box-Office Record for Domestic Grosses in One Year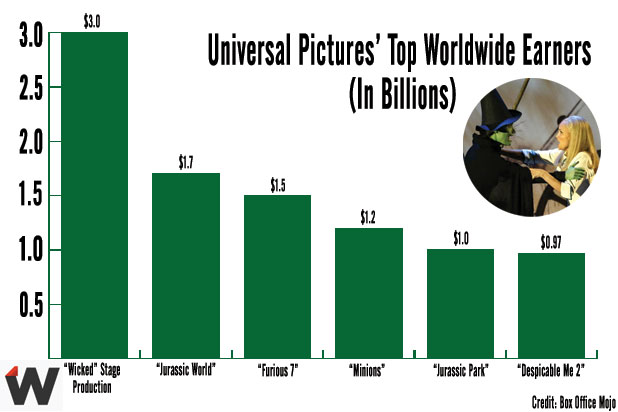 The Tony-winning 2003 Broadway production alone  has generated $962,913,836 in grosses, according to the Broadway League. That doesn't account for overseas and touring productions.
By contrast, Chris Pratt and his band of raptors bring "Jurassic World" as a distant second with $651 million domestic gross, and Vin Diesel's "Furious 7" behind that.
Platt said the movie version of the show is still in development and the script is being written.
Also Read: 'The Gin Game' Broadway Review: James Earl Jones and Cicely Tyson Play to Win
Universal and Platt acquired the rights to Gregory Maguire's 1995 novel "Wicked: The Life and Times of the Wicked Witch of the West" in 2001 with plans to develop a non-musical film, but they were soon approached by "Godspell" and "Pippin" composer-lyricist Stephen Schwartz about doing a stage musical version.
Smart move. The Broadway production of "Wicked" was an instant cultural darling, and significantly raised the profiles of its founding cast Idina Menzel and Kristin Chenoweth.
Reporting by Jeff Sneider