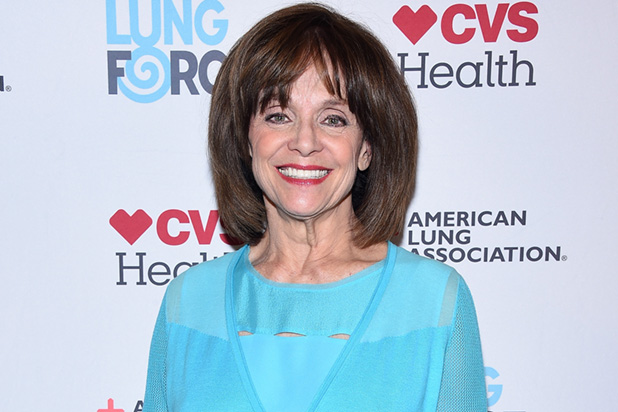 Valerie Harper, the actress best known for playing groundbreaking sitcom character Rhoda Morgenstern from 1970 to 1978 on "The Mary Tyler Moore Show" and its spinoff "Rhoda," died Friday. She was 80.
A statement from Harper's husband Tony Cacciotti was posted on Twitter by their daughter, actress Cristina Cacciotti.
"My beautiful caring wife of nearly 40 years has passed away at 10:06am, after years of fighting cancer," the statement read. "She will never, ever be forgotten. Rest In Peace, mia Valeria. -Anthony."
The actress had been battling brain cancer since 2013. In July, her husband wrote in an emotional Facebook post that her doctors recommended she be placed in hospice care. "I can't [because of our 40 years of shared commitment to each other] and I won't because of the amazing good deeds she has graced us with while she's been here on earth," he wrote at the time.
"We will continue going forward as long as the powers above allow us, I will do my very best in making Val as comfortable as possible. There are two special ANGELS on this planet masquerading as humans who live and work together, that have made it possible to have all of Val's needs taken care of."
Also Read: Gabrielle Carteris Wins Re-Election as SAG-AFTRA President, Beating Matthew Modine
Harper was best known for portraying Rhoda Morgenstern, Mary Richards' witty, edgy and loving neighbor on "The Mary Tyler Moore Show" in the early 1970s before her "Rhoda" spinoff which ran from 1974 to 1978. She won four Emmys for the role,
From 1986 to '87,  she starred in the hit NBC sitcom "Valerie" for two seasons, but was abruptly fired from the show early in shooting season 3 during a salary dispute. The show was hastily re-titled "Valerie's Family" with Sandy Duncan brought on as the new female lead, and the season premiere was rewritten so that Harper's character was killed off. Harper sued and won a 1.4 million judgment against production company Lorimar, which she donated to charity. She was also awarded 12.5% of the show's profits. The show was eventually renamed again as "The Hogan Family," and lasted 6 seasons, ending in 1991.
In addition, Harper appeared in more than a dozen feature films and won four Emmy Awards and was nominated for a Tony Award for her role as Tallulah Bankhead in "Looped."
Her character Rhoda was considered a feminist at the time. On "Mary Tyler Moore," she was a single woman trying to balance her career (window dressing) and love life. She would find love and marry on "Rhoda," but her on-screen marriage would collapse and end in divorce. Along the way, Rhoda dealt with issues like weight and self-confidence.
Harper was an activist in real-life and a vocal advocate of the Equal Rights Amendment. Listen to Harper speak about activism in her own words in this excerpt from her memoir "I, Rhoda."
ABC 7 in Los Angeles first reported the news.