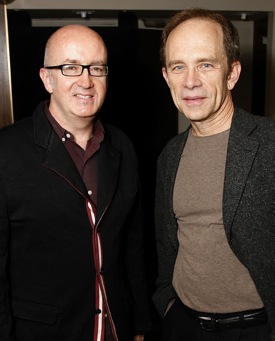 The evisceration of Variety continues.
On Monday, the trade let go chief film critic Todd McCarthy and chief theater critic David Rooney. Longtime film critic Derek Elley also was cut, as were features editor/indie film reporter Sharon Swart and graphic designer Danielle Grimes, along with several copy and design desk employees.
In a memo to Variety staff, the trade's group editor, Tim Gray, said all three critics have been asked to work as freelancers for the moribund trade.
However, McCarthy told TheWrap he has made no such arrangement, at least not yet.
"It's sad," McCarthy said. "It's the end of something. You can say it's the end, or you can say it's the end of the way it's always been done."
Reaction from the film community was characterized by shock and dismay, with Roger Ebert tweeting, "Variety fires Todd McCarthy and I cancel my subscription. He was my reason to read the paper. RIP, schmucks."
Still, in his memo, Gray insisted, "Today's changes won't be noticed by readers. Our goal is the same: To maintain, or improve, our quality coverage.
"We are not changing our review policy," he added. "Last year we ran more than 1,200 film reviews. No other news outlet comes even close, and we will continue to be the leader in numbers and quality. It doesn't make economic sense to have full-time reviewers, but Todd, Derek and Rooney have been asked to continue as freelancers."
Insiders told TheWrap that a total of eight people would lose their jobs on Monday.
The layoffs would be at least the fourth set of staff cuts in the past 18 months or so as the trade has battled declining advertising revenue and circulation.
McCarthy said he was called into editor Tim Gray's office on Monday and informed that it would be his last day.
"They're restructuring, and let go or have let go other full-time critics, except for Brian Lowry," he said.
McCarthy was the longest-tenured writer at Variety, second only to columnist Army Archerd, who died last year.
McCarthy said he has been deluged by messages from colleagues and industry friends who were alarmed at his dismissal.
While Variety didn't release a list of names affected by Monday's staff cuts, the trade did outline a series of promotions in a statement posted on its site.
Kirstin Wilder, formerly deputy managing editor, will be upped to managing editor, where she will continue to oversee production, finances and editorial personnel. She now also will handle administrative concerns on the "business side," according to Gray.
Executive editor Steven Gaydos, who was upped during the last round of cuts in April, will see his duties further expand beyond just the advertising-supported special reports division, contributing to what editor Gray said will be "other growing areas at the paper."
But the news of the day was that the trade planned to eliminate core editorial staff positions by dumping its well-known and longtime critics.
Newspapers across the country have been laying off their film and TV critics over the past few years, as consumers have turned to online review aggregators such as RottenTomatoes.com.
But McCarthy, who has been at Variety since 1979, has been the marquee voice at the trade and — until Monday — was a fixture on the masthead. Rooney, also a Variety veteran, was similarly well-regarded.
Rooney began as a freelancer for the paper in 1991. He was the paper's Rome correspondent from 1994-2003, when he moved to New York to become chief theater critic. He also frequently reviewed films for the trade.
Reviews have been a blessing and a curse for Variety, which has struggled to balance advertising and editorial interests. Just last week, the paper received criticism for pulling down a negative review of the movie "Iron Cross" after the producer of the film — an advertising client — complained.
Notably, that review was written by a freelancer, not McCarthy.
But McCarthy said, "The reviews have been the most unchanged part of Variety, period. Forever." He noted the trade had published more reviews than any other publication in the world, about 1,000 a year.
In his memo, Gray indicated that in addition to cuts, several new hires are pending.
"Internally, we hope the changes — which will include several new hires coming aboard — will make things more streamlined and efficient, will eliminate unnecessary work, and will increase coordination and communication in the newsroom," he said.
Other promotions included the upping of former online editor Dana Harris into the new position of special projects editor, developing content "for additional tiers of readers behind the paywall." Also: Carole Horst has been promoted to associate editor; Paula Taylor to creative director; Ted Johnson and Cynthia Littleton to deputy editors; and Terry Flores to senior editor.
Variety has added key ranking editors in recent months, notably hiring former Los Angeles Times denizen Leo Wolinsky to edit the print Daily Variety.
But since November 2008, when Variety began a string of withering cuts — which trimmed its editorial ranks by about 30 percent — staff reduction has been ongoing at the trade.
In January 2009, Variety cut more than 30 staffers, a tally that included longtime editor and music reviewer Phil Gallo, movie bloggers Anne Thompson and Mike Jones, film reporter Diane Garrett, and technology and videogames reporter Ben Fritz.
A follow-up round in April featured the forced departures of executive editor Michael Speier and New York bureau chief Dade Hayes. Longtime editor Kathy Lyford, as well as a number of copy-desk denizens, also were shown the door over the last year.
Also, in January, there was the voluntary departure of heavy-hitting film reporter Mike Fleming, who bolted for Nikki Finke's Deadline Hollywood.
This latest round of trims comes as Variety's chief competition, the Hollywood Reporter, is once again expanding its staff after being purchased.
With Variety's website now existing behind a paywall, Gray outlined an ongoing strategy to make the trade's content "less consumer-y."
And under the sub-heading "reasons for optimism," he assured staffers Monday, "The economy will bounce back. Ignore the bloggers (who obviously are trying in vain to steal our readers and our advertisers), ignore the obits for Old Media, ignore the negatives and the craziness that this economy has created. The people in the Depression bounced back, and so will all of us who are going through this crisis. I cannot repeat this often enough: Variety is in profit, which means we're here to stay."