Variety's copyright infringement lawsuit against the Vandals, a legendary California punk rock band, will be decided in a Los Angeles-area federal court and not in Delaware, where the trade publication wanted it to proceed.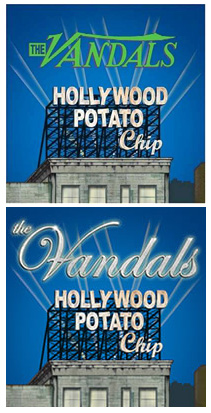 The judge in the case, Gregory Sleet, ruled that "the interests of justice overwhelmingly favor allowing this case to proceed in the Central District of California."
Last year, lawyers for Variety owner Reed Elsevier filed suit in Delaware District Court claiming the band and its record label – Kung Fu Records — violated an agreement stemming from a complaint Variety registered in 2004 over the design of the Vandals' "Hollywood Potato Chip" album cover.
Variety argued that copies of the original cover — and a sampler that uses the Variety logo — remain online on Web sites the label and the band operate. The band claims they are no longer using the logo anywhere, and that the sites named are not under their control.
Henry Horbaczewski, Reed Elsevier general counsel, declined comment.
But the Vandals' bassist Joe Escalante — who is also a lawyer and is representing the band in the lawsuit — is claiming victory, and hinting the band may countersue Variety.
On the band's website, Escalante wrote:
They wasted the court's time and their client's money by trying to burden the punk band with huge legal fees to extort money out of them. And remember, the Vandals are representing themselves, without counsel, in Federal Court!
The Plaintiffs should all be ashamed and it is the Vandals opinion that they are liable for malpractice damages by ruining their client's reputation in a frivolous attempt to act like Godzilla when it comes to hoarding their precious font and inhibiting protected free speech.
And, in typical punk rock fashion, the Vandals produced an animated video — posted on YouTube – mocking Variety and editor Peter Bart over the suit: