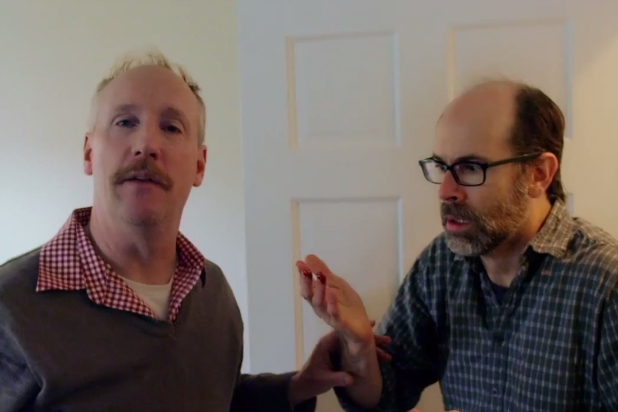 "Veep" star and Upright Citizen's Brigade co-founder Matt Walsh wants to raise a very specific $52,650 on Indiegogo to crowdfund his new improv movie, "A Better You."
Walsh directed the film, which stars friend Brian Huskey ("This Is the End"). The duo, which also co-wrote the rough screenplay outline, needs money for post-production.
See video: Neil Young Shatters Pono Music Kickstarter Goal in One Day
On their fund-raising page, Walsh provides one of the better reasons for the whole Hollywood-star-asking-for-your-money thing, which can sometimes become awkward with these ventures: "One, I'm not truly famous, I'm more of a "Hey I know that guy" celebrity," he begins his list for the cash-grab. "Two: I'm not rich and my wife and I have three kids so the money I make — I can't tell you where it all goes, but it's not for champagne or tropical vacations."
Some contribution levels for "A Better You" include $50 for a signed DVD, a "Master" improv class with Walsh for $1,000 — or a donator can shell out $15,000 for an executive producer credit.
See video: Shaquille O'Neal Crowdfunding 'Shaq-Fu' Video Game Sequel, Will Follow You on Twitter for $1000
The independent movie centers around Dr. Ron (Huskey), a hypnotherapist  who can cure any mind except his own. It co-stars Horatio Sanz ("SNL"), Joe Lo Trugio ("Brooklyn Nine-Nine") and Rob Huebel ("Childrens Hospital"). On the Indiegogo site, Walsh and Huskey posted a humorous YouTube clip further detailing the plot and running through some of their filmmaking techniques.
At the time of this writing, the new campaign had raised more than $3,000; Walsh has 40 days left to fund the rest.
Watch the pitch: