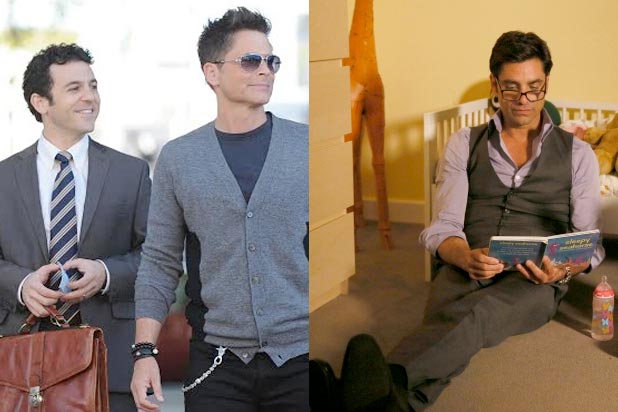 Fox debuted to new potential comedy hits on Tuesday, as "Grandfathered" and "The Grinder" aired their series premieres.
The sitcoms both star '80s heartthrobs — John Stamos and Rob Lowe respectively — and have already received critical acclaim and positive reviews.
Can you make an entire sitcom out of the fact that Stamos looks really, really good for a man in his 50s? As it turns out, yes, especially when "The Office" writer Daniel Chun pens such a witty script.
As for the 8:30 p.m. slot, Lowe and "Wonder Years" star Fred Savage are perfectly paired and even more affable together than they are separately.
Also Read: John Stamos Heckles Rob Lowe During 'Grinder' Panel: 'Tell the Truth!'
"Grandfathered"
Before heading to Netflix for "Fuller House," Stamos plays Jimmy Martino, a successful Los Angeles restaurateur who's always found at the center of a glamorous gaggle of models and tastemakers, claiming that he wishes he had a family with whom he could share his success.
It's only when the adult son Martino didn't know he had pops up at the restaurant with a toddler in tow that his bluff is called.
Along with marveling over Stamos' ability to look better now than he did 20 years ago, Twitter users praised his partnering with Joshua Peck as Gerald, his twenty something child.
Also Read: 'Grandfathered' Creator on Sharing Custody of John Stamos With 'Fuller House,' His 'Two-Levels' of Handsomeness
Even Stamos' "Fuller House" co-star Candace Cameron Bure gushed over his latest comedy, saying she "loved it," while other viewers gushed about the surprise appearance of fellow "Full House" alum Bob Saget.
That cameo of #bobsaget tho-genius!!!! #Grandfathered

— Marhee Tait☔️ (@MarheeTait) September 30, 2015
I swear @johnstamos looks better now then he did 20 years ago. #grandfathered #hotdamn

— Michelle (@ShellyD77) September 30, 2015
Who watched @JohnStamos 's new show #grandfathered ? I just loved it!! Did you?

— Candace Cameron Bure (@candacecbure) September 30, 2015
That cameo of #bobsaget tho-genius!!!! #Grandfathered

— Marhee Tait☔️ (@MarheeTait) September 30, 2015
So many cameos in the #Grandfathered premier! The best one, of course, being Bob Saget

— Nicole Kerekes (@nicolekerekes) September 30, 2015
"The Grinder"
Another actor who never ages is Lowe, who is as dashing as ever playing an actor playing a lawyer on a show within the show. With the fictional series at an end, he returns home to Boise, Idaho, with his actual lawyer brother, Stewart (Savage), and father (William DeVane) to launch a potential new law career.
"Rob Lowe is the perfect combo of smarmy lawyer/actor. Hard to tell he's acting," one Twitter user wrote.
"While Doesn't get better than @RobLowe as a lawyer," wrote another.
Please watch my hero and friend Fred Savage do better then I thought when he returns to acting on The Grinder tonight on Fox.

— adam pally (@adampally) September 29, 2015
Loved #TheGrinder. @RobLowe is the perfect combo of smarmy lawyer/actor. Hard to tell he's acting. ????

— Margot (@notmargot663) September 30, 2015
Doesn't get better than @RobLowe as a lawyer #TheGrinder

— Jackie (@SceusaMe) September 30, 2015
Thought it would b #TheMuppets but #fav show is #thegrinder & #Grandfathered but #johnstamos #1 we will always love our drummer #blackie

— janet (@jaxjan66) September 30, 2015
Gon' watch Grinder tonight see what "The Waitress" @meellisday is up to #TheGrinder

— Danny DeVito (@DannyDeVito) September 29, 2015