The suicide of the managing editor at an Ellies-winning literary magazine late last month has sparked an investigation into alleged bullying by its editor — and is putting the publication's long-term future in serious doubt.
Kevin Morrissey, the 52-year-old managing editor of the Virginia Quarterly Review, took his own life on July 30. According to his family and several VQR staffers, in the weeks leading up to his death, Morrissey (pictured, right) had been subjected to bullying by his boss, 38-year-old editor-in-chief Ted Genoways (pictured, left).
"It was a toxic environment for Kevin," VQR Web editor Waldo Jaquith told NBC News. "Ted's treatment of Kevin during the last few weeks of his life was just egregious."
And Genoways' treatment of Kevin on the day of his death appeared to push Morrissey over the edge.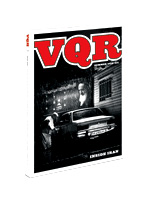 Shortly before 10 a.m. on July 30, Genoways sent an e-mail to Morrissey "accusing him of jeopardizing the life of a writer," according to one account reported by The Hook, a local newsweekly. At 11:30 a.m., Morrissey called 911 to report a shooting near a coal tower in Charlottesville, Virginia. When police arrived, they found Morrissey dead, the victim of a self-inflicted gunshot wound.
The University of Virginia, which operates the magazine, has launched an internal investigation into Morrissey's death and the allegations of bullying against Genoways. "The untimely death of Kevin Morrissey has raised questions about the university's response to employees' concerns about the workplace climate in the VQR office," UVA president Teresa Sullivan said in a statement late last week. "We will be undertaking a thorough review of VQR's operations." ("My only hope is that they take a serious workplace bullying policy to heart," Maria Morrissey, his sister, told the Chronicle of Higher Education, "so nobody else has to go through this anymore.")
Genoways attributed Morrissey's death to depression. "I cannot accept the final blame he laid on me," Genoways wrote in a note to staffers following Morrisey's death.
There are conflicting reports — one from Genoways, the other Morrissey's family — that Morrissey mentioned Genoways in his suicide note. [Click here to read it.] What is apparent, though, is that Morrissey tried to get help.
According to UVA and NBC, Morrissey made some 17 phone calls to university offices in the last week of July, and complained to human resources, but to no avail.
Genoways, who is on leave from the magazine through a Guggenheim fellowship, did not return an e-mail seeking comment. His lawyer told the "Today" show that it was depression that killed Morrissey, though admitted "unhappiness at work" contributed to it. ("His long history of depression caused him trouble throughout his career," Genoways wrote in a statement to the Chronicle, "leading often to conflicts with his bosses.")
Meanwhile, VQR's staff is scrambling to finish its fall issue. "We can pay Kevin no greater honor than to deliver the fall issue of VQR as Kevin would have wanted: carefully edited and on schedule," the staff wrote in a note to readers posted on VQR's website.
But according to the Chronicle, Genoways' involvement in this issue has caused some strife.
"After the suicide, the staff members … were told they would be putting together the upcoming fall issue on their own, without Mr. Genoways, who is on leave on a Guggenheim fellowship," the Chronicle reported. "But this week, people close to the Review said, Mr. Genoways submitted to the review's design company a completely different version of the fall issue — with a different cover — than the one staff members had been working on. Now, say people close to the review, the staff members are threatening to take their names off the masthead." (The university says it "remains strongly committed to VQR.")
[RIGHT: Morrissey's suicide note; click to enlarge]
In 2006, VQR shocked the magazine world by winning two National Magazine Awards — one for general excellence, the other for fiction in a category that included the New Yorker, Atlantic, Esquire and Harper's.
"We were the toast of the publishing world that night," Genoways wrote in his e-mail about Morrissey's death. "His mood darkened in the years that followed."
Weird, meta-side note to an already bizarre story: Six years ago, Jeff Rossen — the NBC News correspondent who filed the report on Morrissey's death below — was criticized by Genoways in a VQR editor's note about the media's coverage of the 9/11 Commission Report. Genoways called Rossen "smarmy" and "driven by an insatiable thirst for the most vicarious thrill and an aching desire to be first."