Fox News debate moderator Megyn Kelly took Donald Trump to the woodshed during Thursday's GOP Debate in Detroit, Michigan, in a damaging exchange, saying the billionaire candidate "fleeced" students of Trump University.
After Trump insisted Trump University got an A from the Better Business Bureau, Kelly corrected him saying, "With respect, we went back and looked at this … the rating from the Better Business Bureau was a D-."
Trump insisted,"it was elevated to an A."
But Kelly did not back down, citing a class action suit of 5,000 plaintiffs involving veterans, teachers and "so-called little guys" who say that they were "fleeced."
Also Read: Trump Swats Back at Rubio 'Small Hands' Accusations: 'There's No Problem There' (Video)
Kelly then hit Trump again, saying that he countersued the lead plaintiff in the class action, and read  a damaging comment from the court of appeals in the case: "The plaintiffs against you are like the Madoff victims …"
She continued to cite the appeal ruling: "Victims of the con artists often sing the praises of their victimizers until the moment they realize they have been fleeced."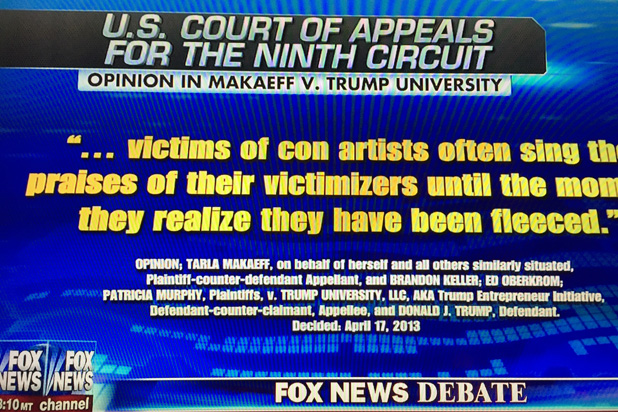 Trump shot back, "Give me break," he said, adding, "Lets see what happens  at the end of a couple of years when this case is over.
"It's been going for five years," said Kelly.
Marco Rubio then interjected, saying that Trump refused to refund money to those who asked.
"He's making promises he has no intention of keeping … he's trying to con people into giving them their vote, just like he conned people into giving him their money."
Trump shot back that the biggest con artist is Rubio for never showing up to vote, saying "the people of Florida wouldn't elect him [as] dog catcher."