ABC's "Twin Peaks-ish" new hour-long "Happy Town" got off to a disappointing start Wednesday, while "American Idol" put Fox into familiar spot, winning the 18-49 demo race for a third consecutive night.
Here are Wednesday's ratings highlights: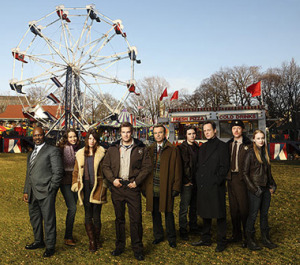 DOWN TOWN: Premiering at 10 p.m., "Happy Town" scored a 1.7 rating/5 share in the key 18-49 demo, dropping 39 percent of its "Cougar Town" lead-in. Meanwhile, its 5.2 million viewer count was the lowest of the 10 o'clock hour. The, er, happy news: ABC's comedies helped it finish in second place for the evening, with "The Middle" (2.4/7 demo rating, 7.1 million viewers) and "Modern Family" (4.1/11, 9.8 million) up 4 percent and 11 percent week to week respectively.
THE QUALITY OF 'MERCY' IS LESS STRAINED: NBC bubble hospital drama "Mercy" perked up 17 percent at 9 p.m. to a 1.4/4 in adults 18-49 and 5 million viewers. NBC continues to benefit from CBS being in re-runs, with "Law & Order: SVU" winning the 10 o'clock hour in all major categories (it scored a 2.9/8 key demo rating and 9.4 million viewers).
STILL THE ONE: "American Idol" spiked 10 percent to a 6.5/17 demo score and 19.4 million viewers, leading Fox to another 18-49 win.