After a miserable May, the domestic box office appears to have shaken off its lethargy, with Sony's new Adam Sandler comedy outperforming tracking this weekend, on the way to a solid $41 million North American debut, and "Toy Story 3" generating the best week two gross ever for Disney/Pixar with a market-leading $59 million.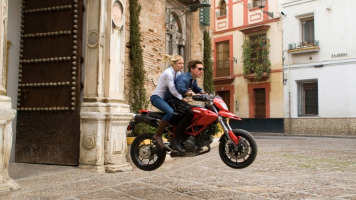 Even Fox's much-maligned new Tom Cruise movie, "Knight and Day," managed to outpace tracking over the three-day weekend period, grossing $20.5 million to bring its five-day premiere total to $27.8 million, according to studio estimates.
But even one of the bettter weekends so far this summer doesn't compare to 2009, with this weekend's performance falling 21 percent below the comparable late June frame from last year, when Paramount/DreamWorks' "Transformers: Revenge of the Fallen" debuted to a staggering $109 million.
Not that anyone is complaining, given that things could be a lot worse.
"At the end of the day, we're extremely happy," said Fox executive VP of distribution Chris Aronson, noting that after a soft $7.3 million midweek start on Wednesday and Thursday, "Knight and Day" shot up 80 percent on Friday and another 27 percent on Saturday.
"We think the multiples on this film are going to be huge," added Aronson, commenting on a film that, while derided for its marketing campaign, has generated favorable reviews from critics. Word-of-mouth-wise, it scored an A-minus grade from customer-satisfaction grader CinemaScore.
Shot on a budget of $107 million, directed by James Mangold, and co-starring Cameron Diaz, "Knight and Day" opened in only 12 territories — like a lot of films, it's holding off on wide international release, seeking to dodge competition from World Cup soccer.
On 2,238 foreign screens, the PG-13-rated film took in $12.6 million, finishing No. 1 in the three top 16 territories it did enter, Russia, Taiwan and South Korea.
"Tom Cruise is still the guy," Aronson said.
Certainly, in a weekend that paired two of the top perennial box-office drivers head to head, Cruise wasn't the No. 1 guy.
Returning to his loveable googy-guy roots, Sandler used his unbeatable comedic formula to drum up his 10th opening above $34 million … and get his usual bad reviews in the process, with a 10 percent score on Rotten Tomatoes.
Shot for just over $70 million, and co-starring Sandler's former "Saturday Night Live" running mates Chris Rock, Rob Schneider and David Spade, as well as his "I Now Pronounce You Chuck and Larry" co-star Kevin James, "Grown Ups" exceeded tracking in the $30 million range.
As for Disney/Pixar's 3D "Toy Story 3," it dropped 48 percent in week two, despite great reviews and word of mouth, but has reached $226.6 million domestically.
Also dodging the World Cup, it added $36.1 million in 32 countries representing only about 35 percent of the foreign market.
With $109 million in total foreign grosses so far, "Toy Story 3" has a worldwide cumulative total that now stands at $326.6 million.
Among other holdovers, Sony's "Karate Kid" remake dropped 48 percent in weekend three, grossing $15.4 million and bringing its domestic total to $135.6 million.
Fox's "The A-Team," meanwhile, dropped 58 percent in weekend three to $6 million. It's domestic total now stands at $62.8 million.
Here's the weekend's top 10:
"Toy Story 3" ($59.0m)
"Grown Ups" ($41.0m)
"Knight and Day" ($20.5m)
"Karate Kid" ($15.4m)
"The A-Team" ($6.0m)
"Get Him to the Greek" ($3.0m)
"Shrek Forever After" ($2.9m)
"Prince of Persia" ($2.8m)
"Killers" ($2.0m)
"Jonah Hex" ($1.6m)