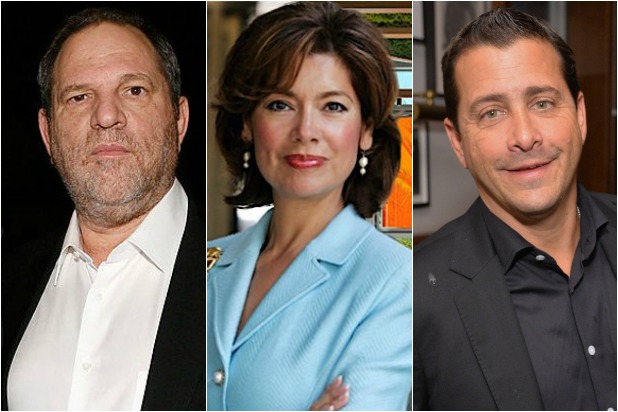 The sale of the Weinstein Company was thrown into turmoil on Sunday, as the outgoing board of directors rejected a settlement offer by New York Attorney General Eric Schneiderman over civil rights violations.
The new buyers, led by Maria Contreras-Sweet and Ron Burkle, held an emergency meeting with management on Sunday to determine next steps, as the sale had been expected to close this weekend. The standoff occurred because the Weinstein Company board rejected a settlement offer on Wednesday that potentially left them open to liability over sexual harassment claims against the company, according to an individual with knowledge of the talks.
Sources tell TheWrap that the rejected settlement offer included several restrictions, including a third party monitor on the new board of directors to overlook certain aspects of the company plus fines and liabilities against the outgoing board. Contreras-Sweet and her group were also blocked from these talks by the outgoing board.
Also Read: NY Attorney General Sues The Weinstein Company Over Civil Rights Violations in Sexual Assault Scandal
Contreras-Sweet, the former head of the U.S. Small Business Administration under President Barack Obama, was expected to buy the company for $500 million, leading to a complete overhaul of the company, including a new name and a female-majority board of directors. But that deal is now in jeopardy, as Schneiderman has filed a lawsuit charging the company with civil rights violations.
The lawsuit filed on Sunday alleges multiple "egregious violations of New York's civil rights, human rights, and business laws." It does not block the sale, but the attorney general's office can file a temporary restraining order blocking it within 30 days of the sale contract being signed. The Contreras-Sweet group had an exclusive negotiating window, which was to have ended today.
"The suit, filed today in New York County Supreme Court, includes new and extensive allegations about longtime company CEO Harvey Weinstein's vicious and exploitative mistreatment of company employees," the attorney general's office said in a statement. "Today's suit includes numerous employee-victim accounts of sexual harassment, intimidation, and other misconduct."
The lawsuit names three defendants: The Weinstein Company, and Bob and Harvey Weinstein, the company's cofounders.
Also Read: Weinstein Attorney Responds to NY Suit: 'He Will 'Vigorously Defend Himself'
Ben Brafman, attorney for Harvey Weinstein responded Sunday, saying in a statement: "We believe that a fair investigation by Mr. Schneiderman will demonstrate that many of the allegations against Harvey Weinstein are without merit. While Mr. Weinstein's behavior was not without fault, there certainly was no criminality, and at the end of the inquiry it will be clear that Harvey Weinstein promoted more women to key executive positions than any other industry leader and there was zero discrimination at either Miramax or TWC."
He continued, "If the purpose of the inquiry is to encourage reform throughout the film industry, Mr. Weinstein will embrace the investigation. If the purpose however is to scapegoat Mr. Weinstein, he will vigorously defend himself."
Reps for the Contreras-Sweet group did not immediately respond to TheWrap's request for comment.
Also Read: Weinstein Co. Executives, Board Under New Scrutiny in NY Attorney General Lawsuit
Since the Weinstein scandal broke, TWC has frozen its release schedule and sold off films in an effort to stave off bankruptcy, including a deal to Warner Bros. for the domestic distribution rights to "Paddington 2." While other bidding groups were waiting for a bankruptcy sale, the Contreras-Sweet group had agreed during their negotiations to assume all the companies liabilities — estimated at $225 million — in addition to its assets.
Among the titles that would be inherited by the new owners of TWC include a film adaptation of Lin-Manuel Miranda's Tony-winning musical "In The Heights," the Benedict Cumberbatch/Michael Shannon drama "The Current War," and the Dev Patel/Armie Hammer thriller "Hotel Mumbai."
Sharon Waxman contributed to this report.