Bring yourselves back online: HBO has partnered with interactive content studio Survios to launch a new virtual reality game based on "Westworld" that "inserts players into a meticulously crafted world of adventure, danger and fantasy."
Set during the events of the second season of Jonathan Nolan and Lisa Joy's sci-fi series, "Westworld Awakening" is described by HBO as "a narrative-driven, single-player stealth exploration experience played from the perspective of Kate – a host within the Mesa facility who has suddenly attained self-awareness and must undergo a journey of self-discovery to understand exactly what that means. To survive a dangerous underworld where no one and nothing is what it seems, you must take matters into your own hands and, using a QA (Quality Assurance) tablet, manipulate the world around you."
The description continues: "As you navigate Delos' labyrinthine laboratories and offices, you will encounter iconic scenes and settings from 'Westworld,' solve puzzles and interact with (and manipulate) other hosts. But you can't get too complacent: Hank, a relentless serial killer host who has stalked 'Westworld' for generations, awakened alongside you and is now in constant pursuit, forcing you to react quickly even as you venture further into the unknown. To escape, you must plunge into the secret past of Westworld and overcome an entire world designed to destroy and enslave you."
---
Also Read:
'Westworld' Season 3 to Premiere in First Half of 2020, Deal in Place With Creators for 'Potential' Seasons 4 and 5
---
"Westworld Awakening" was developed in collaboration with producers at Nolan and Joy's Kilter Films and designed for Vive and Oculus head-mounted displays. According to the pay-TV channel, the game will be available in 400 VR arcades worldwide and to download for $29.99 on Steam, Oculus, and Viveport on Aug. 20.
An English version of the game will be accessible in the U.S., Mexico, Brazil, UK, Germany, France, Spain, Portugal, South Korea, and China (arcades only).
"HBO is known for producing some of the most compelling shows, offering creative storylines and complex characters that keep our viewers coming back for more. Through VR experiences, we are bringing these fictional people and places to life for our viewers and letting them interact and engage with our shows in new, immersive ways," Aaron Nonis, VP of interactive and immersive experiences at HBO, said. "'Westworld Awakening' is the perfect fusion of the right creators and story, the right IP, and the right platform that allows us to create the next-generation playground for our 'Westworld' fans."
---
Also Read:
Fall TV Premieres: Here's When All Your Favorite Broadcast Shows Will Return (Photos)
---
"With 'Westworld Awakening,' we had the privilege of going inside HBO's popular show to create an entirely new storyline," added Daniel Zeligman, Survios' project lead. "The end result is a VR experience unlike any other out there, that allows fans to dive deep into familiar settings and become a character on their favorite show, seeking to survive the dangers of 'Westworld.'"
Fall TV: Here Are the Premiere Dates for the New Broadcast Series (Photos)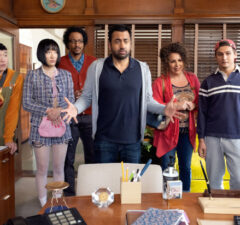 (Tap photo and swipe to view gallery)