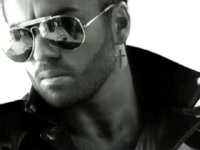 George Michael was charged by London police on Thursday with marijuana possession and driving under the influence of alcohol or drugs.
The charges stem from a car crash last month, police told the Associated Press and Reuters. Michael's car crashed into a building in the upscale Hampstead district of north London.
The 47-year-old pop singer was released on a promise to appear in court on August 24.
It's just the latest in a long string of run-ins with the law for Michael. His driver's license was suspended for two years in 2007 following a similar arrest, and was arrested again in 2008.
According to the AP, Michael was "questioned by police after his car hit a tractor-trailer" in 2009, but was released without being charged.
And, of course, there was the infamous 1998 arrest for "lewd conduct" in a public restroom in Los Angeles. Michael was convicted of soliciting sex from an undercover police officer, fined and ordered to do 80 hours of community service.