Here in L.A., if you ever want to experience true diversity, spend some time at the DMV. And since we're approaching the Fourth of July, is there anything more American than sitting in a plastic chair in an overcrowded, fluorescent-lit room, waiting indefinitely for your number to be called? You're among people from all walks of life, ethnicities, ages and genders. It's a multicultural melting pot. And given the poor ventilation, all of us are united in melting.
The DMV it's the most egalitarian place in Los Angeles. While I was there, an Armenian woman who looked like a Kardashian from several decades ago, swanned in and demanded to speak to a manager. As though she'd just arrived at the Four Seasons.
"I have an appointment," she announced.
The greeting committee – a Latina woman with a clipboard replied: "So does everyone else. The manager is busy. We don't have a concierge."
I found that very satisfying.
What I didn't find satisfying was that I had to fill out the application for registration in the computer section. I stood in my computer cubicle with all the other people who had neglected to do this step at home. It was me and a bunch of elderly people who, sorry to say, didn't look like driving material. If you can't see the screen on the computer, should you really be driving a car?
One gentleman in his 80's asked the woman working there for assistance because he couldn't see the box for his social security number. "What's the number?" She asked.
"Zero Nine Two…" He shouted. So much for privacy.
Once my application was completed, I waited. I looked around and saw every nationality, every ethnicity. And despite the differences, we all had one thing in common: Agita.
Finally, my number was called. As I stood in front of a glass window, the Chinese woman seated on the other side had a mask on, and it was impossible to hear her. Mainly because standing very close behind me were three people – a woman with her older parents – and they were arguing, loudly, in Russian. I politely asked them to back up.
They ignored me and continued arguing.
The Chinese lady made a gesture with her hands – indicating I should what? Shove them? I wasn't going to do that. Instead, I asked again, this time more assertively. "Can you move?"
Nothing.
Eventually, with no other option, the Chinese lady got up from her desk and when she returned, she was with the manager who was no-nonsense and took care of the situation. With the three Russians, the Chinese lady, the Latina manager and me (a white Jewish lady), it was like a meeting at the U.N. That's what's great about the DMV – everyone is created equal.
Here are 5 things to do this weekend that will make you feel special….
Love The Weekender? Share it with a friend and spread the word!
Visit
Do you want to hug a cow? Feed a carrot to a horse, give a belly rub to a pig or hold a chicken? The Gentle Barn's mission is to provide sanctuary for abused animals who would not otherwise be able to find homes, from roosters to puppies. This non-profit animal rescue gets its funding from donations and foundations.
The Gentle Barn started on a half-acre property in the middle of the San Fernando Valley and in 2003 the founders moved to a six-acre property in Santa Clarita. There are large horse and cow pastures, a red and white barnyard for the smaller animals, an organic vegetable garden a view of mountains and 200 animals that are safe and nurtured.
Be ready to question your meat consumption.
Open to the public on Sundays, there are family tours, group tours and if you're feeling sad, lonely, stressed out and scared –they also offer cow therapy! From the site: "Get hugs and unconditional love from our therapy cows. Meditate with them, hug them, and let them reassure you, fill you up, and love you. Put your worries down and leave renewed. The cows are here for you."
I'm completely down for some Cow Therapy. Probably cheaper than what I do now.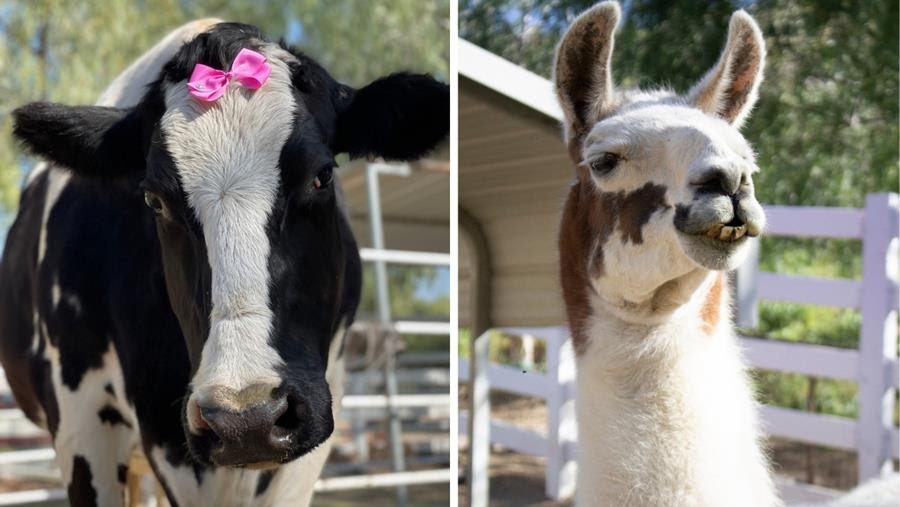 When: Open to the public on Sunday
Where: 15825 Sierra Hwy, Santa Clarita, CA 91390
Directions: Directions from the South (L.A. and the Valley): Take 405 North (or 210 West) to 5 North to 14 North (Lancaster/Palmdale) Exit Sand Canyon Rd and turn Left Go over the Canyon and turn right on Sierra Highway. The Gentle Barn is located about 1.1 miles on the Left.
Tickets and Reservations: Here
Go See
Film Screenings at the Skirball this summer!
Don't miss a 50th anniversary screening of The Way We Were and special "Behind the Blacklist" double-features that showcase films created by screenwriters, directors, and actors who were Blacklisted during the Hollywood Red Scare.
FREE Museum admission is provided with any film screening. Be sure to visit the related exhibition, Blacklist: The Hollywood Red Scare, which explores the history and impact of the Hollywood Red Scare and its contemporary implications for civil liberties, propaganda, and shifting definitions of American patriotism.
FREE tickets to see the Blacklist exhibition are also being offered to WGA, SAG-AFTRA, and IATSE members.
Go To
The last time I was here was to see the photographer, Sebastiao Salgado's remarkable exhibition: Amazonia. Unfortunately, that's no longer on view. But there are so many other stimulating exhibits to see. You can spend hours at this museum and never get bored.
There are the traveling exhibits – such as the Maya exhibit which is currently on — but the permanent exhibits are equally fascinating. Take, for instance, the Air and Space extravaganza – which has a few different sections: Humans in Space. Mission to the Planets. Stars and Telescopes. Kids can discover the beauty of Telescopes which can answer questions about the creation of galaxies, distant stars and the birth of the universe. Little things like that.
Also, at the space shuttle Endeavour section – you can touch the tires that have been into space, look inside the main engine – and see an actual space shuttle up close which is a lot safer than actually getting launched into space. Who would want that?
Hours: Saturday-Sunday and Holidays | 9:30 a.m. to 5:30 p.m.
Where: 700 Exposition Park Drive, Los Angeles, CA 90037
Cost: Free
Traffic Alert: Sunday, July 2nd and Monday, July 3rd, expect heavy traffic in and around Exposition Park. Parking is not guaranteed. Please arrive early and plan accordingly.
On the Fourth!
Who doesn't love a Fourth of July parade?! Well, me. If there's such a thing as parade phobia, I have it.
But unlike me, most people think parades are fun. Residents of Ojai, which is about 80 miles north of Los Angeles and inland, set their lawn chairs out along Main Street about two weeks ago. And there's a reason people travel from Ventura, Oxnard and Santa Barbara for this patriotic cavalcade – it's a delightful trip across American culture. You don't want to miss the dancing horses led by caballeros in full regalia, the classic muscle cars on display, the children in karate outfits, Disney princesses and of course the firefighters in their trucks. It goes for several hours and is loads of fun. (For most people).
When: Tuesday, July 4
Where: Main Street, Ojai, California
Parking: On the street, but it's crowded
Go See
Rooftop Movie: The Big Lebowski
The fact that there's a theatre named after Ricardo Montalban (who I grew up watching as "boss" from Fantasy Island) is already great. But you're also watching a movie on a rooftop, outside, and the movie is a Coen Brothers classic – with the infamous "dude" Jeff Bridges.
Rooftop Movies at The Montalbán is back with its Summer Season Screenings. It's a pretty swanky set up and before the film you can visit the bar or on-site kitchen. What's better than watching a movie under the stars at a historic Hollywood venue. Hope it's not a hazy night.
When: Saturday, July 1 – Doors open at 6pm and movie starts at 8pm
Where: Ricardo Montalbán Theatre | 1615 Vine St, Los Angeles 90028
Tickets: Here
Parking: Nearby structures
More Fourth: Go Hear
Beach Boys at the Hollywood Bowl, With Fireworks!
The only thing worse than a parade? Fireworks. I've been to some spectacular fireworks displays all over the world and I'm the person standing there plugging my ears with my fingers, observing everyone else having fun, and feeling like I'm not made for this world.
The Beach Boys, on the other hand – I adore. I'm in awe of "God Only Knows" and I've watched enough documentaries on Brian Wilson to understand how brilliant the group's music is. With anthems of American youth—including "Surfin' USA," "I Get Around," and "California Girls" and "Fun, Fun, Fun"— playing along with the Hollywood Bowl Orchestra will be a memorable evening. And of course, there will be the legendary fireworks. For those who enjoy that kind of thing.
Half off for kids 12 and under.
When: July 2, 3, 4 at 7:30pm | Gate time: 5:30pm
Where: Hollywood Bowl | 2301 N Highland Ave, Los Angeles, CA 90068
Parking: Here