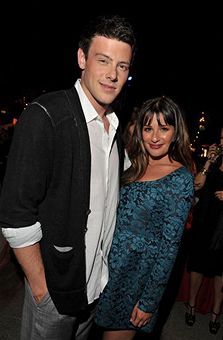 You don't have to wait until Sept. 21 to see what's in store on season 2 of Fox's hit musical "Glee." At the premiere in Hollywood on Tuesday, TheWrap got the scoop on the new characters, rivalries and drama that will rock McKinley High's beleaguered New Directions glee club.
This should be obvious, but don't keep reading if you don't want to see spoilers.
"Glee's" rookie year brought home strong ratings and 19 Emmy nominations. The season two premiere begins with a sly nod to the intense press scrutiny that surrounded the show following its wildly successful first year.
The episode opens with McKinley High blogger Jacob Ben Israel (Josh Sussman) interviewing the members of Directions. Ben Israel's questions were all meta-references to some of the criticism the show has faced from the press during its run so far.
For example, Ben Israel asks New Directions' hyper-competitive overachiever Rachel Berry (Lea Michele) if she is "difficult to work with," paralleling rumors of Michele's own diva behavior on set. Ben Israel also tells glee club adviser Will Schuester (Matthew Morrison) that his readers are "begging you to stop rapping" and that New Directions' song selections sound like they came from a "drag queen's iPod."
Schuester responds to the criticism by calling a club meeting where he unveils a new strategy to help recruit new members — hip-hop.
"They say we only sing show tunes and '80s pop. Let's show them how down we are," Shuester says, prompting the glee clubbers to launch into a rousing rendition of Jay Z's "Empire State of Mind."
New Directions' rap routine manages to get the attention of two new McKinley students — football player Sam Evans (Chord Overstreet, at right), who will be a love interest this season for Kurt Hummel (Chris Colfer), and foreign exchange student Sunshine Corazon (YouTube sensation Charice Pempengco).
Corazon is a talented singer who emerges as a potential rival for Rachel. To maintain her position as New Directions' top dog, Rachel tricks Corazon into going to a crackhouse where she believes glee club auditions are taking place. The experience leads Corazon to leave McKinley and join New Directions' arch rival — Vocal Adrenaline.
At the premiere, Pempengco said she wasn't sure whether her character will rejoin New Directions. "That I don't know, let's see what's going to happen," Pempengco said.
Rachel isn't the only "Glee" character who gets a new nemesis this season. Dot Jones delivers a hilarious, standout performance as McKinley's new football coach, Shannon Beiste (pronounced like "beast").
Beiste convinces Principal Figgins (Iqbal Theba) to slash the budgets for both the glee club and the cheerleading squad. Her budget maneuvering leads onetime rivals Schuester and cheer coach Sue Sylvester (Emmy winner Jane Lynch) to band together. The dispute leads Beiste to cut New Directions' Finn Hudson (Cory Monteith) from the football team.
Jones, who recently wrapped up a three-episode guest arc on TNT's "HawthoRNe," said she signed a contract to do five episodes of "Glee," three of which are in the can. She said she doesn't know if she'll be asked to stick around once her contract runs out. So far, none of Jones' "Glee" scenes include a musical number, but she said she's "up for anything."
Fox has already renewed "Glee" for a third season.