'When They See Us' Cast on the Nightmares of Ava DuVernay's Real-Life Drama
'When They See Us' Cast on the Nightmares of Ava DuVernay's Real-Life Drama
TheWrap Emmy magazine: "I would wake up and be afraid to go back to work — but I knew it was for a purpose bigger than me," actor Jharrel Jerome says
By Sharon Waxman | June 12, 2019 @ 11:39 AM
This story about "When They See Us" first appeared as the cover story in the Movies & Limited Series issue of TheWrap's Emmy magazine.
A crisis counselor was on hand every day during the shoot of "When They See Us."
A professional was on standby when Jharrel Jerome shot day after day of solitary confinement in an actual jail, re-creating what Korey Wise endured as a 16-year-old found guilty of assault and sexual abuse and exonerated only after spending years incarcerated.
On standby when Niecy Nash, playing Wise's mother, sat in court and watched her son sentenced as an adult and sent to prison for 5 to 15 years.
Available when Jerome and other actors re-enacted the harrowing police interrogations that coerced confessions from the young men.
Also Read: 'When They See Us': Netflix Drops Gripping First Trailer for Ava DuVernay's Central Park 5 Drama (Video)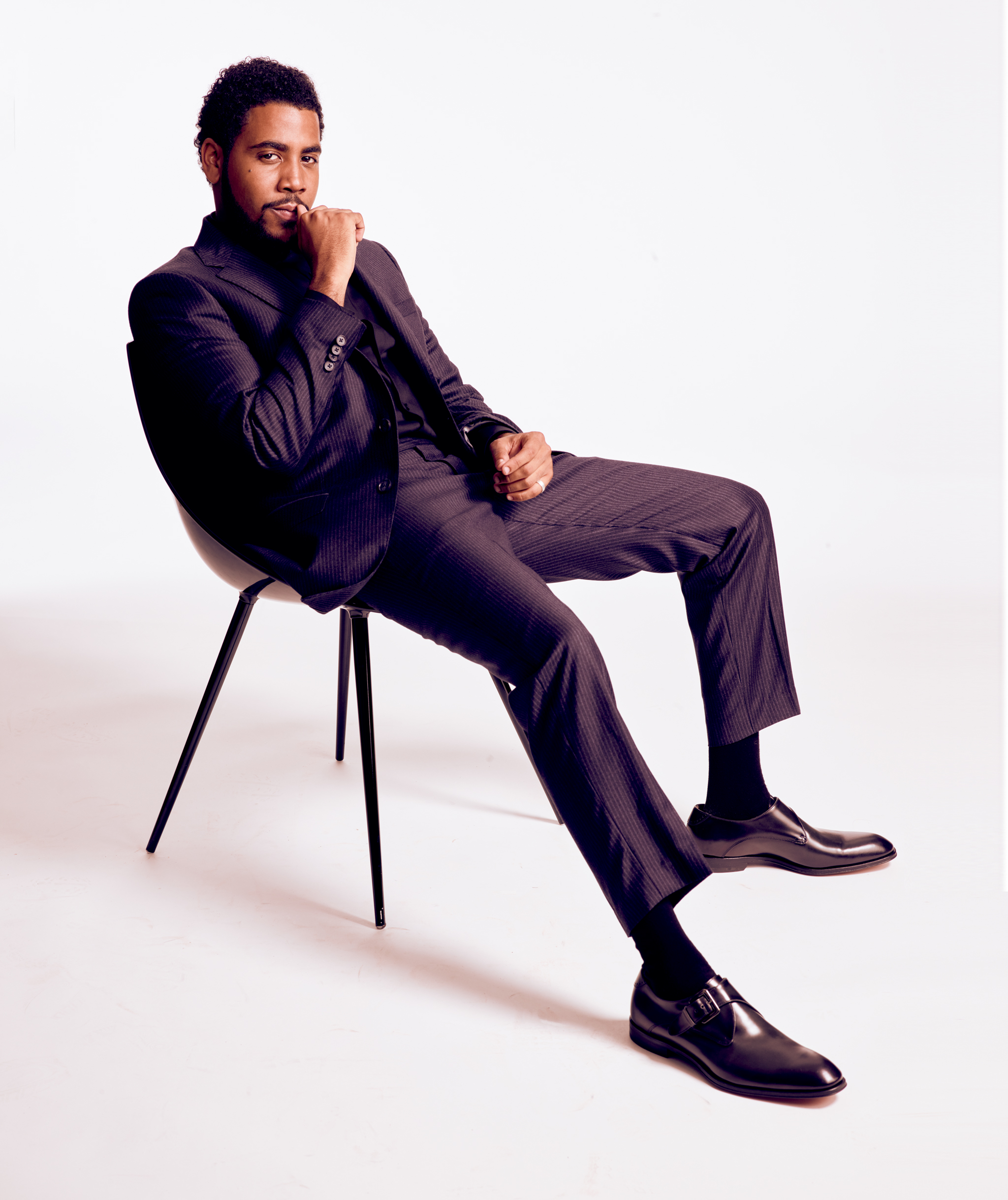 Making "When They See Us," a four-part Netflix series about five young men of color who were convicted of a brutal crime of which they were actually innocent, was not like making an ordinary piece of entertainment. And the way that Ava DuVernay, the project's writer, director and executive producer, went about it was anything but ordinary.
It started with the origin of the project, when DuVernay responded to a 2014 tweet from Raymond Santana, one of the then-teenagers who became known as the "Central Park Five," convicted of raping and beating a 28-year-old jogger in the New York City park — then exonerated 12 years later when the true perpetrator confessed.
Santana, a stranger to the director of "Selma" and "13th," wanted to know if she might be interested in their story. She was.
The project was also out of the ordinary in that the five men — all grown, all scarred, all largely forgotten by history — were brought into the process. DuVernay invited them to weigh in on casting of their characters. They were present on set during the emotional re-creations of the police interrogations and supposed confessions and what followed.
Also Read: Central Park 5 Prosecutor Didn't Want 'When They See Us' Producers to Talk to Exonerated Men
And with a mountain of background research, she also prepared her actors for the ripple effects of playing real-life men at a time when — in a bizarre twist — the current U.S. president is the man who once took out a full-page ad in the New York Times calling for their execution.
For some of the actors, the experience was both traumatic and deeply emotional. "I always brought my work home," said Jerome, the "Moonlight" star who shot 10 straight days of solitary confinement in a real prison.
"I could never go home and not think about Korey. Not think about what I did on set. I would have nightmares. I would wake up and be afraid to go to work, afraid to go back in that headspace. But I knew it was for a purpose bigger than me."
Nash, better known for lighter fare like "Clean House," "Reno 911!" and "Getting On," agreed. "I have been forever changed by acting in this," she said. "The skin I had in the game was the injustice of it all.
"I'm raising a black son. There but for the grace of God go me or my family. So I felt like I am my brother's keeper. I didn't understand how to sit on the sidelines."
Also Read: Central Park 5 Prosecutor Accuses Ava DuVernay of 'Outright Fabrication' in 'When They See Us'
"When They See Us" feels like an important moral reckoning from a director who is determined to make her mark chronicling the scars of racial injustice in America. The series tells a well-known story from the not-too-distant past, but it focuses on the stories of the young men — their perspectives, their experiences in jail, the impact on their lives. It is a point of view most often ignored, that of the black victims of a miscarriage of justice.
"When They See Us" joins DuVernay's remarkable body of work: "Selma," "13th," "Queen Sugar" and even the big-budget Disney movie "A Wrinkle in Time," with a young black girl as the heroine. DuVernay is turning out to be one of the most intentional, self-defining filmmakers of our time.
"The things I'm talking about — mass incarceration, race, culture, bias — are so much at the forefront of what we should all be thinking about," she said. But, she admitted, her timing has helped hit a cultural nerve. "The key films I've made have come at particularly powerful times."
Also Read: 9 Women Who Have Directed Movies With $100 Million Budgets (Photos)
Taking a step back, it may be somewhat surprising that no one has made a movie like this about the Central Park Five before now. It is the stuff of high drama: a brutal rape and near-murder of a white woman, Trisha Meili, who was jogging after work in Central Park, in the heart of New York City. A media circus. Racial tensions.
Four African-American and one Hispanic teenager arrested when "wilding," wanton violence from packs of young men, had become the latest urban scourge. Confessions. And then a trial, where Yusef Salaam, Kevin Richardson, Antron McCray, Santana and Wise said the confessions were coerced.
Despite no physical evidence, no timeline and no witnesses, they were convicted. More than a decade later, a convicted rapist and murderer confessed to the crime, and DNA evidence confirmed his participation. The Central Park Five, all of whom had completed their prison sentences of between six and 13 years, had their convictions vacated, and later received a $41 million settlement from the city.
"The conversation in my household growing up, particularly with my big brother and mother, was, 'Something ain't right,'" recalled Michael K. Williams ("The Wire," "Boardwalk Empire"), who plays Bobby, the father of Antron McCray. "But like everybody else, all we had to go on was what we would see and hear in the media. It was very conflicted. We heard, 'They confessed to these crimes.' Who does that if they're innocent?"
Also Read: Ava DuVernay Opposes Steven Spielberg's Effort to Keep Netflix Out of the Oscars
For Williams, the story is particularly complex because of an attack he lived through as a young man. "To be fair, it's not like people in my community weren't acting like that," he continued. "It's not like wilding wasn't going on. It was a very real thing in the community at that time. These scars on my face are a result of my being wilded on."
Williams was attacked by a group of young men on his 25th birthday after a drunken dispute turned ugly, leaving him with lifelong trauma and a permanent scar down his forehead and right cheek. "I know what that looks like in the eyes," he said. But when he saw the accused teens of the Central Park Five, "that is not what I saw. What I saw was myself. What I felt was fear–fear of being lumped in, fear of being generalized, fear of being next."
Across the country in Compton, California, DuVernay was a young woman when the five teenagers were arrested. She too felt connected to the story happening in Harlem, where the accused teens lived. And by the time Santana reached out years later, she was well aware of what mass incarceration was doing to African-American communities, which she documented in her Oscar-nominated 2016 documentary "13th."
"I brought that research — the ripple effect of incarceration," she said. "I became fascinated with their mothers, their sisters, their families. You come to understand that when you incarcerate one person, you incarcerate their whole family, sometimes a whole community."
Jerome played Wise both as a teenager and as he grew into an adult doing 12 years of hard time. He was the only one to go to an adult maximum-security prison, in Auburn, New York, where he was a victim of serial beatings. Wise has a deafness issue that hindered him from learning to read, and Jerome took voice lessons to learn his unusual speech pattern. He also had to pack on weight to play Wise as an adult in prison.
Also Read: Michael K. Williams Speaks Out on Wilding Attack, Guilt Feelings in 'When They See Us': 'I'm Sick of the Anger'
"When Ava cast me she had the talk: 'I'm gonna want to see a transformation between young and older Korey,'" he recalled. "I was eating 3,500 calories, working out three hours a day, weight-gain shakes, nasty stuff. It was very new to me to go through the process of working out. That put me into a mind set when you're forced to do something you don't want to do."
Jerome never called the crisis counselor, though. Instead, he took his inspiration from Wise himself. "When I first met Korey, he took the chain off his neck and said, 'You're Korey Wise now,'" he said. "It was an absolute responsibility — but in front of a man like that, you feel nothing but confident.
"He was the therapeutic part of the process, knowing he is alive, that he smiles and hugs people and tells them he loves them. Walking the street as a confident man. He is the strongest human on the planet. I've never met someone more inspiring."
For years after his release from seven years in prison, Raymond Santana, 44, did not want to grant Hollywood the rights to his story. He felt too burned by the system and betrayed by the media.
"They'd put the story together, show both sides, toss it in the air and ask the public to decide which side they wanted to be on," he said in a phone interview from his home in Georgia. He and the other four were done with that. "We wanted someone to do the research, look at the truth and tell the truth."
The veteran documentarian Ken Burns, with his daughter Sarah and David McMahon, directed the 2012 documentary "The Central Park Five," which won a Peabody Award but wasn't widely seen. Then in 2014, Santana saw "Selma" and wondered who was behind this powerful telling of the story of Martin Luther King Jr.
Tentatively, he reached out to follow the film's director on Twitter. DuVernay followed him back. One day he took the plunge and tweeted to her: "What's your next film going to be on? #centralparkfive #cp5 #wishfulthinking #fingerscrossed"–"and a couple more hashtags," Santana recalled.
Also Read: 2019 Emmy Contenders, From Sophie Turner to Richard Madden (Exclusive Photos)
That led to a meeting in New York. Then meetings with the other four men as they
slowly got to know DuVernay, and she grew convinced that she wanted to tell their story.
Strangers before they were arrested as teenagers, the five men speak frequently now that the series is out.
"The story itself brought us closer," Santana said. "There was a thing in there we didn't know about each other. Here we thought we were making great strides. When we watched the series, we needed to take a couple of steps back and become even closer together. That's what the series brought."
Nash and the other actors are still processing the experience of making "When They See Us." She and Williams have become ambassadors for the Innocence Project, which advocates for people unjustly convicted.
"To think that these childrens' lives got turned upside down because of a lie, because of someone trying to make a case, these children being villainized because of their skin color — it's an atrocity," she said. "You think, 'My God, this is still happening?' It's heartbreaking."
She also noted the continued disparity in treating suspects. "You see black and brown children being carted off in handcuffs after being choked, stomped, abused. And you see white children shoot up a whole church, being walked to the car and asked if they want a hamburger," she said, alluding to the treatment of Dylann Roof, a white supremacist convicted of the 2015 mass murder of nine people in a Charleston church.
Santana, with years of living through his trauma, has a slightly different take. He has his life, owns a t-shirt company and frequently speaks publicly about his experience with the justice system.
We need, he said, "to speak on it. To talk about it. To have a conversation. For those people in positions of being police officers, prosecutors, defense attorneys — do the right thing. We're not discouraging people from filling those positions. But don't cut corners — do the right thing in your job. If there is an injustice, don't be afraid to speak out against injustice."
Read more from the Movies & Limited Series issue of TheWrap's Emmy magazine.