Asmaa al-Ghoul blew my mind Monday night. She's a Palestinian journalist laboring in the Gaza Strip. Her uncle is a leader in Hamas. She wrote an article criticizing him. He arranged to have her beaten.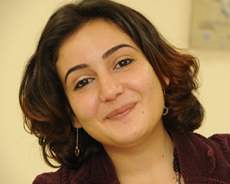 Al-Ghoul brought her husband and infant son to receive a 2012 Courage in Journalism award at the Beverly Hills Hotel, given by the International Women's Media Foundation. It's an important honor that not only recognizes heroic women journalists — and inspires all of us laboring under the umbrella of constitutional rights — but also offers them the protection of the international spotlight.
"Courage is an inner power that can trick you," she told a crowd that included Annette Bening, Jon Hamm and wife Jennifer Westfeldt, Chelsea Handler and Maria Shriver, who all took a back seat to the honorees. "You feel another person is inside you in a way that scares you. I am a neutral journalist, but when I am writing about honor killings, I felt as if those women were calling me."
She writes — despite having been arrested and tortured by Hamas — about what she called the "extreme theology and secular corruption" of the Palestinian authorities, along with the oppression of the Israeli occupation. She declines to wear a hijab. And she declines to shut up. She regularly receives death threats.
Three other women were honored with her: Ethiopian journalist, Reeyot Alemu, who could not accept the award in person because she is in jail, and Khadija Ismayilova, a fierce, fearless Azerbaijan. Pakistani journalist Zubeida Mustafa, who approached the podium with a cane, received a lifetime achievement award for her unwillingness to be cowed by being a minority of one among the men journalists of her era. (Pictured at top of page from left, al-Ghoul, Mustafa, Khadija Ismayilova and Elias Wondemu, a friend of Alemu.)
These women are rare heroes and remind us all why we must fight to protect freedom of expression around the world, why journalism matters so very much. And how the power of truth can topple empires.
Ismayilova stood up and offered words that should wither the knees of those in power in her country. "If they kill me, silence will not fall," she said.
Working for Radio Free Europe, she broadcasts about corruption in the highest office of Azerbaijan: that of the president and other government officials. A campaign of retaliation against journalists is commonplace in her world, but this year efforts to intimidate reached a new low.
Video recordings were made of her sex life with her boyfriend. She found hidden cameras in her apartment and taps on her phone, and her enemies posted the footage on the internet. She still published her investigation. In a very conservative society like Azerbaijan, publicizing this aspect of her private life makes Ismayilova even more of a target.
She is not chastened in the least. In Azerbaijan, she said, "basic rights are being violated." Women in developing countries fight on a different plane than those of us here. These are the Mulala Yousafzais of the world, grown up and confident of their role in the world. (And that young heroine, the schoolgirl shot in Pakistan by the Taliban, is apparently en route to recovery, good news.)
Let's celebrate these women and be grateful for the freedoms that we take for granted every day.