James O'Keefe, the man who slew ACORN and on Wednesday toppled the CEO of NPR, is some new kind of journalist – Johnny Knoxville meets Glenn Beck in Michael Cera's body.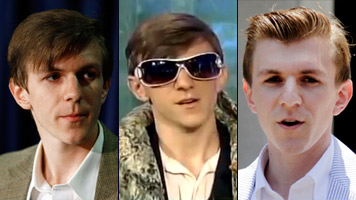 His critics call him a sneaky little punk who cheats context to destroy careers and lives.
His supporters, including his media mentor, Andrew Breitbart, call him the right wing's answer to a long line of left-leaning "hybrid troublemakers who get put on the cover of Rolling Stone, like Paul Krassner and Abbie Hoffman."
Also read: 'Republicans: NPR's Ousting of CEO, Fundraising Chief Not Enough'
With Vivian Schiller, the CEO of O'Keefe's latest target, National Public Radio, resigning Wednesday following yet another O'Keefe hidden-camera sting, everyone can agree that the 26-year-old conservative activist is real good at achieving his political agenda.
But is he really a journalist?
"What he does isn't journalism," said Marty Kaplan, director of the Norman Lear Center at USC's Annenberg School for Communication. "It's agitpop, politi-punking, entrapment-entertainment. There is no responsible definition of journalism that includes what he does or how he does it. His success at luring his prey into harming themselves is a measure of how fallible and foolish anyone, including good people, can sometimes be."
Breitbart told TheWrap that if Hunter S. Thompson's "drug and alcohol-induced narratives were believed at face value because they fit the left narrative," there's no reason why O'Keefe shouldn't be acclaimed in same way for innovating his own kind of Gonzo.
"James O'Keefe didn't just expose ACORN, HUD and now NPR, he also exposes the journalism racket as crippled by ideological fervor," added Breitbart, who said he regularly advises the former Rutgers student on media-related issues, but does not supply him with financial backing.
"He is an independent journalist," said Breitbart, who regularly features O'Keefe's videos on his websites.
The rising right-wing star cut his teeth in the media while still attending Rutgers University, where he founded conservative newspaper the Rutgers Centurion. His first big splash on the main stage of political activism, however, came with his video sting operation on the community group ACORN.
The covertly-filmed footage, which was captured at ACORN offices in 2009, claimed to depict the workers giving O'Keefe, who was dressed in pimp attire and accompanied by a young woman posing as one of his prostitutes, advice on concealing illegal activities.
While the footage, which caused a sensation when it was posted on right-leaning Brietbart.tv, was criticized by many as being too heavily edited to offer a clear perception of the meeting, it did eventually lead to Congress removing all federal funding from ACORN, effectively putting the organization out of business.
O'Keefe again generated controversy — and headlines — in 2010, when he and several other activists were arrested for posing as telephone repair techs in order to gain access to the New Orleans office of Democratic Sen. Mary Landrieu, in a reported effort to tamper with Landrieu's phones.
O'Keefe and his cohorts later pleaded guilty to a single charge in association with the incident, receiving three years probation, community service and a fine.
The budding scandal-monger scored yet another hit later in 2010 after obtaining a temporary job with the U.S. Census Bureau.
O'Keefe's brief Census gig yielded yet more surreptitious footage, this time claiming to depict his supervisor expressing indifference that O'Keefe had been paid for work that he didn't do.
O'Keefe used this footage to crow that the Census Bureau — which, like, ACORN, had come under fire by certain conservative factions — is inefficient and wasteful.
O'Keefe's had another misfire last fall, while trying to embarrass a CNN correspondent who was reporting on him. O'Keefe invited her to a boat "filled with sexually explicit props" and videotape, but was foiled when one of his assistants told the target of his planned "sting."
"I never intended to become part of the story," Abbie Boudreau, the CNN correspondent, wrote in a blog post. "But things suddenly took a very strange turn."
Boudreau had contacted O'Keefe for the network's upcoming documentary — "Right on the Edge" — about the young conservative activist movement, and agreed to meet him near Baltimore to discuss a video shoot.
But Izzy Santa, a fellow activist who knew about O'Keefe's plan, warned Boudreau when she got there.
Later, Santa forwarded CNN a 13-page document — titled "CNN Caper" — detailing O'Keefe's plan. Among the props listed were a "condom jar," "dildos," "posters and paintings of naked women," "Alicia Keys," "fuzzy handcuffs," "Viagra and stamina pills" and "lube."
Then came O'Keefe's latest prank several weeks ago, when — posing as a member of a fake Muslim student activist group — he caught a high-ranking NPR fundraising executive making disparaging remarks about the Tea Party on digital video.
"It's the same thing 'Dateline' does with 'To Catch a Predator," Breitbart said.
For his part, Breitbart conceded O'Keefe's latest video shows significantly improved production and narrative acumen, compared to choppier, granier initial efforts.
Is Breitbart helping him? Is the Tea Party giving him money?
"He has his own 501(c) and he raises his own money," Breitbart said.
Breitbart insisted that he only works with O'Keefe on a "sporadic" basis, as he would an independent contractor supplying content. (Although he conceded that he talked to O'Keefe this week to savor the young, er, documentarian's latest triumph.)
"This is exciting," Breitbart said. "This is a revolution."