Remember the time you paid $36,000 to wingman Seth Rogen on a pee break? Donny Deutsch does.
The television personality woke up $36,000 lighter Sunday morning, after he emerged from the audience (unscripted) to donate (along with a father-tween son team) during one of several creative celebrity based auctions at Comedy Central's "Night of Too Many Stars: America Comes Together for Autism Programs" at the Beacon Theatre in New York on Saturday night.
During the live on-camera gag, one unsuspecting guest was flummoxed to find a camera and boom mic invading the men's room, while Paula Deen and Harvey Keitel provided a sight gag, nonchalantly exiting together from a stall in the background.
The fourth edition of the fundraising special combined stand-up sets (mood-shifting performances from Hannibal Buress, Bill Burr, and host Jon Stewart), sketches (Keitel and Carly Rae Jepsen sharing backup dancers and crooning "Call Me Maybe") and a healthy dose of tears ("We all have allergies," Stewart quipped) as a young autistic pianist, Jody DiPiazza (left) dueted with her idol Katy Perry on "Firework."
Jerry Seinfeld and Al Pacino are on-call for the live celebrity phone bank from Stewart's "Daily Show" set when the special airs on Comedy Central, Sunday, October 21 at 8 pm on both coasts.
But back to the celebrity auctions that went beyond the urinal: Here's what the market for not-available-in-stores celebrity experiences raked in, ranked from most to least expensive at auction.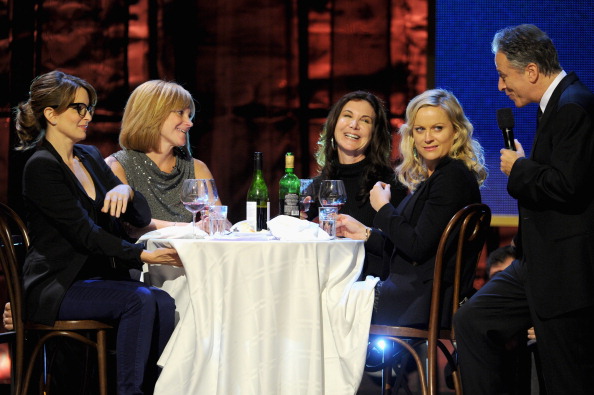 "Tina (Fey) and I have been friends for 19 years, " Amy Poehler said. "But we need a new best friend tonight."
Autism philanthropist Grace Ann Baresich ("the Jerry Maguire of Darien real estate"), who runs autistictraveler.com (middle left) and author/activist Karen Exkorn (middle right) each bid $36,000 to spend the night on double date with the comedy besties. Cell phone photos of group shopping trips, street food, and red wine appeared in the theater throughout the night.
A Christmas card family photo-shoot with Al Pacino: $25,000, given by Louis C.K. and a non-celeb guest.
A night-closing sing-along with Sting who substituted winner "Paul Repps" (far right) name in for "Roxanne" with an all-star cast of backup singers including Katy Perry, Carly Rae Jepsen (behind mic), Keitel and J.B. Smoove.
Bought by the winner's son for his dad, Stewart advised the yarmulke wearing bidder, "Next year on Yom Kippur, you can eat all you want!"
A set visit to "Breaking Bad" in Albuquerque in January or February 2013: $22,000
One of every Apple product: $20,000.
Eminem recording your outgoing voicemail message: $19,000
And on the "cheap" end, a trip to a "Simpsons" table read in L.A: $13,000
CNN's John King moderated a "helium" debate between MSNBC's Chris Matthews and Fox News Channel's Bill O'Reilly – where the participants were only allowed to speak in helium-altered chipmunk voices.
After spending two Saturday nights in a row together — the Stewart vs. O'Reilly debate on October 6 and Saturday night's fundraising tag-team — the friendly rivals are practically dating.
The night was the handiwork of Robert Smigel and Stewart, who hosted in the original sense of the word: Stewart improvised and riffed (successfully) during commercial breaks and missed takes, and hatched a last-minute plan to bring Yale's a cappella singing troop The Whiffenpoofs to duet with Rage Against the Machine's Tom Morello the night before the show. During Saturday afternoon's crash rehearsals, Stewart directed parts of the arrangement, picking individual soloists out of the group cobbled together and plucked from what was supposed to be Yale's "Family Weekend".
At one point — it's unclear if it was part of the show or spontaneous emotion — Smigel grabbed the mic and addressed the crowd: "Nothing is harder than not being able to help your kid," Smigel, the parent of an autistic child, told the crowd. "I tried. I said 'I'm from TV'."
Meanwhile, in an example of the rollercoaster of emotional shifts of the show, a bear fooled Stephen Colbert in to playing nice backstage, before it "ripped" his arm off.
Derek Zoolander (Ben Stiller) unveiled his post-Mayan-apocalyptic 2013 fashion calendar, while tearing down Tommy Hilfiger. Under the whale at the Museum of Natural History after-party, Hilfiger directed the photographer taking candid group shots, and his once camera-friendly daughter Ally (MTV's "Rich Girls" reality show) was less enthusiastic for the family photos.
Viacom Entertainment president Doug Herzog, who stood up to give $10,000 himself, thanked donors personally at the party, where thousands of guests left with gift certificates for five free White Castle burgers, a He-Man sized tube of Supersmile whitening toothpaste, and political buttons that read "I am Bi-Partisan Curious."
Show photos by Dimitrios Kambouris/Getty Images. Backstage photos courtesy of Frank Micelotta/PictureGroup.