Google's deal to pay about $81 million to help France's print publishers adapt to the digital world may stave off a proposed copyright law that would force the search engine to pay news outlets for snippets of their articles.
But don't expect a similar deal in the United States.
Analysts told TheWrap that while the agreement, which Google chairman Eric Schmidt called "historic," will appease French politicians, it's too late for U.S. publishers to push for a similar arrangement.
The Digital Publishing Innovation Fund, announced by French President Francois Hollande and Schmidt, pictured above and right, on Friday, allows Google to skirt a new law pushed for by French media companies that would tax the revenue Google made off ads it sold against French news articles.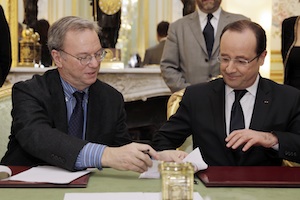 "This was an issue [U.S. publishers] should have brought up a long time back," Sameet Sinha, an analyst at B. Riley, told TheWrap. "I think Europe tends to be more eager to protect print publishers. I doubt the government will go after them on this complaint."
Also read: Google Settles FTC Antitrust Charges, Agrees to Change Patent Policy
French publishers had demanded that Google pay them for displaying snippets and links to articles, but Google rejected the demands and threatened to curtail references to French media.
In a blog post on Friday, Schmidt lauded the deal as "historic" and said its search results help to generate clicks on news sites.
"Our search engine generates billions of clicks each month," he wrote, "and our advertising solutions (in which we have invested billions of dollars) help them make money from that traffic."
Part of the deal that set up the fund stipulates that Google allow media companies access to its AdSense and AdMob advertising tools.
But Sinha said the only way a similar deal — in which Google would pay into a fund that helped U.S. companies like the New York Times Company, Gannett and Tribune Company establish profitable online businesses — would come to fruition is if the media giants offered something in return to Google.
Also read: Google Must Submit to Privacy Audits for 20 Years Under FTC Settlement
"If media companies say that 'we'll open up all our deepest catalogs of content and make it available for Google,' Google might say, 'Hey, there's an opportunity,'" Sinha said in a telephone interview on Monday afternoon. "'We can use video for YouTube, we can use text for these things. That might make sense."
Hal Vogel, the president of Vogel Capital Management, told TheWrap that Google's move won't be replicated elsewhere.
"From a distance, it seems that large investment in French media is a way to incur favor with the French politicians who've given Google a really hard time as they puff up French national pride," he said in an email. "It's a good move for Google in this respect."
Europe has taken a sharper tone with Google in recent months, even as the Federal Trade Commission has ruled in the company's favor.
Also read: Senator Asks FTC to Probe Apple, Google Smartphones
In January, the FTC ended a 19-month inquiry into the search engine's algorithm.
The bipartisan voting committee at the FTC elected unanimously to close the investigation after Google agreed to changes in changes in its patent policies "on critical standardized technologies needed to make standardized devices such as smart phones, tablets and gaming consoles."
Joaquín Almunia, the head of the European competition commission, has taken another tone.
Since he began investigating Google in November 2010, he has said the company needs to make changes to its search business. He has threatened to issue fines of up to 10 percent of its annual global sales, about $50 billion last year.