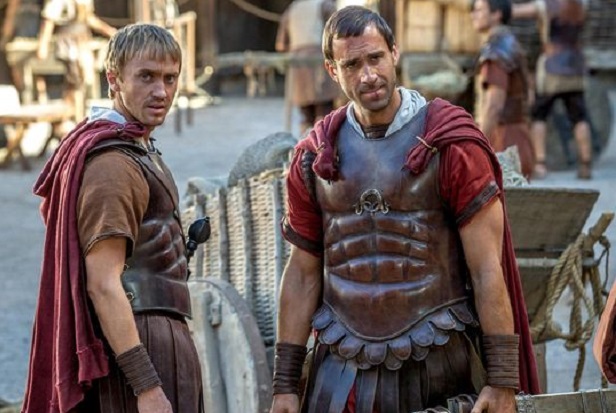 Getting blown out by "Deadpool" at the box office isn't such a bad gig, at least not for Sony and Affirm Films, who backed "Risen," and A24, which rolled out "The Witch."
The raunchy and R-rated Ryan Reynolds superhero saga took in $55 million to claim the top spot at the domestic box office in its second weekend, leaving the pack in the dust: "Risen" took in nearly $12 million and was third, while horror film "The Witch" was next with $8.6 million. The weekend's other wide opener, the Jesse Owens biopic "Race," brought in around $7 million, so the grosses of all three newcomers combined couldn't match those of the "Merc With a Mouth."
But the debut of "The Witch, which follows a New England Puritan family battling an evil force, was a cork-popper at A24 for several reasons. First and foremost it's going to make some real money, since it cost A24 just $1 million to buy the rights along with DirecTV when the film came out out of the Sundance Film Festival last year. Another was that it vindicated a semi-risky move by the distributor's leadership.
Also Read: 'Deadpool' Shish-Kebabs Box Office With $55 Million 2nd Weekend
The rollout of "The Witch" was the widest ever for A24, which specializes in smaller, indie projects, and this opening was the company's biggest. The film also benefited from terrific reviews (88 percent "fresh" on Rotten Tomatoes) and an endorsement from author Stephen King, who said it "scared hell out of him."
Sony's Affirm Films and LD Entertainment, which financed the $20 million "Risen," can take pride in the movie's debut, which was among the best ever for a faith-based film. The solid start, "A-" CinemaScore and Sony marketers' confidence in knowing where their audience is give it a chance to play steadily through Easter next month.
"Risen" is directed by Kevin Reynolds ("Waterworld") and follows the days after the crucifixtion of Christ as seen through the eyes of a non-believer, Roman Centurian Clavius (Joseph Fiennes) Tom Felton, Peter Firth and Cliff Curtis co-star.
"When niche films are produced with modest budgets, the measure of success is not based on their ranking on the chart but rather their profitability at the end of the day (which eventually includes home video, VOD and streaming revenues)," ComScore senior media analyst Paul Dergarabedian told TheWrap. "The fixation on box office and rank on the chart certainly matters when your budget is massive, but films like "Risen," "The Witch" and "Race" are prime examples of films that are small, but can be mighty once the balance sheet is reconciled."
Also Read: Hollywood Hallelujah: Expect a Wave of Faith-Based Movies This Year
Faith-based films tend to be very big, like "Noah" and "Exodus: Gods and Kings," or very small, like "God's Not Dead" or "War Room." The big ones have name stars and blockbuster potential, but considerable risk. The small ones aren't so risky, but are unlikely to get cross $70 million here and are total longshots abroad. With "Risen," Sony and Affirm may have found a happy medium.
"Race," starring Stephan James (who subbed in when John Boyega opted for "Star Wars: The Force Awakens"), came in at the low end of expectations for the weekend. But the "A" CinemaScore it earned signals positive word of mouth for the recounting of Owens' heroics at the 1936 Olympics and the Focus Features release may yet find its stride.
Also Read: 'Race' Review: Jesse Owens Biopic Is Uncommonly Engaging Sports Story
When A24 picked up the Robert Eggers-directed "The Witch" after Sundance last year the idea was to release the film — made for less than $1 million, with the rights acquired for the same — on VOD and via streaming sites.
But when chatter surrounding "The Witch" and reaction to early markets took off, A24 rethought things and decided to give it a theatrical release in 2016. Nearly $9 million and some mounting momentum later, that looks like a pretty good decision.