Movies are fast becoming the ugly stepchild for major media companies, while television continues to be the cash cow that drives profits.
That's the message that emerges from an analysis conducted by TheWrap of the annual reports of five major media companies in 2011. And it's a dramatic change from the way things used to be, when movies were the straw that stirred Hollywood's drink.
"I remember when international buyers had to be forced to take TV product, and they only wanted movies — now it's the other way around," Jeff Sagansky, former president of CBS Entertainment and a former senior executive at Sony, told TheWrap.
The latest annual reports show that film has become a very small piece of the overall revenue pie. Television can be counted on to generate roughly half of a company's revenue and up to 80 percent of its operating income, such as at Time Warner. (Sony does not break out its TV and film revenues and thus was not included in the survey.)
Read the full data comparison here: By the Numbers: Television Trounces Film (Slideshow)
Though Paramount has began to ramp up its film production in recent years with hits like "Mission: Impossible – Ghost Protocol" and "Star Trek," its big screen successes cannot match those of Comedy Central, Nick at Nite, MTV and Nickelodeon. From ad sales to SpongeBob SquarePants merchandise, the margins and opportunities for ancillary revenue are more generous on the television side of the business.
The strength of cable networks like ESPN and the Disney Channel and the affiliate and advertising revenue they generate enabled the Mouse House to emerge relatively unscathed from its recent "John Carter" and "Mars Needs Moms" debacles.
In a recent presentation at Barclay's Global Technology, Media and Communication Conference, Warner Bros. Television Chief Bruce Rosenblum boasted that Time Warner's small-screen divisions are responsible for about 80 percent of its profits. Although its film side has produced global smashes like "The Dark Knight" and the Harry Potter franchise, it cannot match the combined earnings of HBO, Turner and Warner Bros. TV Group. Plus, Warner Bros. hit programming like "The Big Bang Theory" and "Two and Half Men" earns countless millions more in syndication.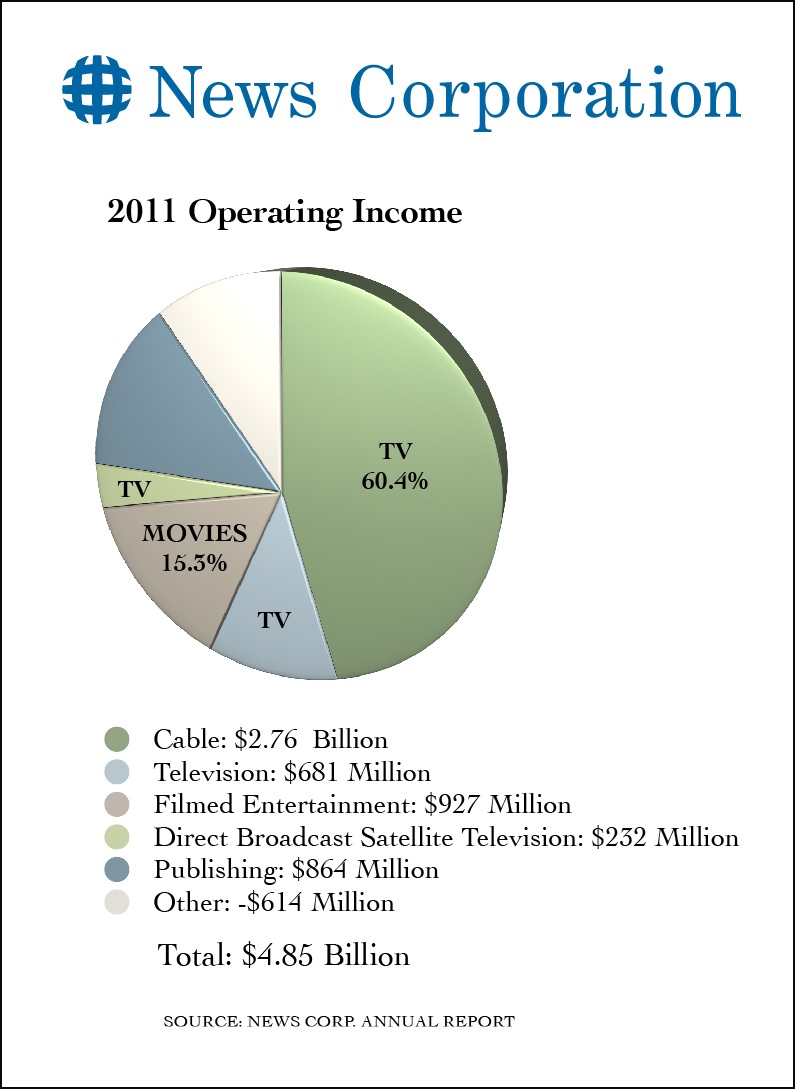 Fox News continues to dominate the cable-news ratings, while the company's broadcast network has churned out hits like "Glee" and "Family Guy" that allows them to paper over misfires like "Terra Nova."
NBC may be a ratings also-ran, but MSNBC has carved out a niche for itself in the crowded cable-news space, and overall cable operations have benefited from higher licensing fees. It is easy to see why Comcast Chairman Brian Roberts' first love is cable, not film.
Top executives such as Roberts have publicly acknowledged that programs like "The Voice," not to mention cable subscription fees, are driving earnings.
Speaking at the Sanford Bernstein Strategic decisions conference last week, Roberts said the film business was much more volatile than the television industry and made no secret about why Comcast plunked down $13.8 billion for NBC Universal in 2011. Let's just say it wasn't for the rights to "Jurassic Park" and "Jaws."
"We want to continue to invest in cable programming," Roberts said. "That's why we bought the company."
For television, the increase in the number of cable networks and video streaming services has created fresh opportunities to leverage hit programming through syndication. Plus, content companies like Disney and News Corp. are adept at extracting retransmission fees for the right to carry their channels from cable providers.
"The value of successful programming has grown exponentially as new platforms have been created," Bill Carroll, vice president and director of programming at Katz Television Group, told TheWrap. "More shows fail than succeed, but when shows succeed the upside is so dramatic that it's sort of the tradeoff."
After recent flops like "Battleship" and "Dark Shadows," it's not hard to see why film is out of favor. Movies are growing more expensive to produce and market, and attendance, at least domestically, has declined in recent years.
"There is no doubt that television has become more important than the film business and has been for some time," Hal Vogel, a media analyst and CEO of Vogel Capital Management, told TheWrap. "There's more stability. With films you can have 'The Avengers' or you can have 'Battleship,' but it's hard to predict."
Lucas Shaw and Sharon Waxman contributed to this report