Will Smith's dream of making son Jaden the new Fresh Prince of Hollywood is on hold for now.
"After Earth," the sci-fi adventure movie he developed in hopes of handing over the action star reins to his 14-year-old, is the summer's first major box-office misfire at the weekend box office.
It has taken in an estimated $27 million since opening Friday, well below industry expectations and "Fast and Furious 6," which repeated as champ with roughly $35 million. The weekend's other wide opener, the magic-themed heist thriller "Now You See Me," was a pleasant surprise runner-up with $28 million, about $10 million above analysts' pre-release projections.
Also read: 'After Earth' Reviews: Critics Can't Stand Will Smith's Space Adventure
The M. Night Shyamalan-directed "After Earth," in which the father and son play space travelers stranded on Earth 1,000 years after humanity has left, had been expected to challenge "Fast and Furious 6" for No. 1 this weekend. But coupled with blistering reviews, weak word of mouth and a hefty $130 million production budget, the limp launch adds up to a letdown for Sony and Smith's Overbrook Entertainment.
Will Smith, a rap star who became Hollywood royalty in TV's "The Fresh Prince of Bel-Air" before moving over to film, has a much smaller part in "After Earth" than his progeny, and "After Earth" was envisioned as a trilogy. It's a good bet plans for sequels are on hold now, however.
"After Earth" earned a so-so "B" CinemaScore from audiences, which were 51 percent male and 40 percent under 25 years of age. Sony would have liked to have seen the latter figure higher, but marketing the film primarily as an action adventure rather than one more aimed at kids may have complicated things.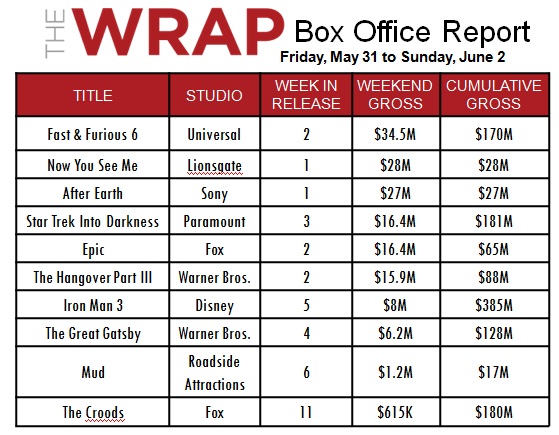 Papa Smith has been in just one movie since 2008, last year's "Men In Black 3." He remains a box-office force internationally – "MIB 3" brought in $180 million in the U.S. and $445 million abroad — and "After Earth" could do better when it rolls out abroad over the next few weeks. Jaden's last movie, the 2010 remake of "The Karate Kid," made $360 million worldwide. But that one opened to $55 million in the United States.
It was close for fourth, between Paramount and Skydance Production's "Star Trek Into Darkness" and Fox's animated family film "Epic," with both studios estimating weekends in the $16.4 million range. "The Hangover Part III" was just behind at $15.9 million, a 62 percent drop from its opening last week, giving it an $88 million domestic total after two weeks.
Also read: Can Will Smith Turn His Son Jaden Into the Next Fresh Prince of Hollywood? (Video)
Universal's cars-and-criminals sequel dropped 65 percent from its record Memorial Day weekend debut, a steep but standard fall for the films in the franchise, which have fallen off sharply from debut weeks in the past. The domestic total for "Fast 6" is now $170 million and it added an impressive $75 million in its second week of overseas release. That brings its worldwide total to more than $480 million, and it will easily be the franchise's biggest moneymaker.
"Now You See Me," which cost about $75 million to produce, is a big win for Lionsgate's Summit Entertainment. The PG-13 "Now You See Me" follows an FBI agent and Interpol detective tracking a team of illusionists who pull off bank heists during their performances and reward their audiences with the money.
Also read: 'Now You See Me' Reviews: Were Critics Enchanted?
Audiences, which were very broad at 51 percent women and 52 percent under 30, gave it an "A-" CinemaScore. Directed by Louis Leterrier, the ensemble cast includes Jesse Eisenberg, Mark Ruffalo, Woody Harrelson, Isla Fisher, Morgan Freeman and Dave Franco.
Disney's blockbuster Marvel sequel "Iron Man 3" was seventh with $8 million, followed by "The Great Gatsby" at $6.2 million, "Mud" ($1.2 million) and "The Croods" ($615,000).
The overall box office was ahead of the comparable weekend last year for the second consecutive week. The roughly $155 million total is about half of the Memorial Day weekend's record four-day haul, but about 13 percent ahead of last year.