Wilmer Valderrama has come a long way since playing flimsy-looking Fez on "That '70s Show," as newly released stills from Season 2 of the El Rey Network/Miramax crime saga, "From Dusk Till Dawn: The Series" prove.
Buff Valderrama is on display as the network prepares to introduce the series to fans at Austin's ATX conference later this week. Images of eight of the cast members were revealed, ahead of the August 25 season premiere.
The show follows a Texas Ranger in hot pursuit of the infamous Gecko brothers, who escaped to Mexico after a bank heist left several people dead.
Also Read: D.J. Cotrona, Zane Holtz, Don Johnson Cast in Robert Rodriguez's 'From Dusk Till Dawn: The Series'
The 10-episode second season will delve into a new chapter for the characters.
Returning cast members include Valderrama, Madison Davenport, D.J. Cotrona, Zane Holtz, Jesse Garcia, Eiza Gonzalez, Jamie Tisdale and Brandon Soo Hoo (shown above). Jake Busey will guest star, as well as Danny Trejo as "The Regulator," Esai Morales as "Lord Amancio Malvado," Jeff Fahey as "Uncle Eddie Cruickshank" and Briana Evigan as "Sonja Lam."
Also Read: 'From Dusk Till Dawn: The Series' Trailer Delivers Blood, Bullets and Bikinis (Video)
El Rey Network's founder and chairman, Robert Rodriguez, who also created the show, will direct the season premiere and finale. Other directors include Eduardo Sanchez, Alejandro Brugues, Joe Menendez, Fede Alvarez, Nick Copus and Dwight Little. 
The Season 2 world-premiere will be screened on June 6 at the Alamo Drafthouse Ritz – Theater and the series press conference on June 7 at Roaring Fork at Stephen F. Austin Intercontinental Hotel.
See the photos below.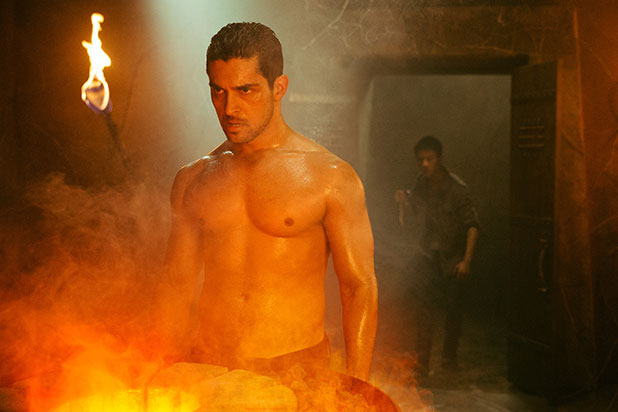 After being banished to the labyrinth, Carlos Madrigal (Valderrama with Soo Hoo) emerges in Season 2 with a new plan.
Kate Fuller (Madison Davenport) and Seth Gecko (D.J. Cotrona) are on the run in Mexico.
In Season 2, Ranger Freddie Gonzalez (Garcia) is still haunted by the creatures he encountered inside the temple and will do anything to protect his family, including Margaret Gonzalez (Tisdale).
Season 2 begins with our characters in their separate worlds – Richie Gecko (Holtz) and Santánico Pandemonium (Gonzalez) are outside Houston, living like Bonnie and Clyde with a vampire twist.
Photos: Ryan Green/Courtesy of El Rey Network and Miramax