"It just might be a little too early for the Christmas stuff," lamented a distribution executive at a rival studio, who had predicted a $40 million-$45 million opening for "Disney's A Christmas Carol."
Premiering with a full six weeks' worth of shopping days before Dec. 25, the Robert Zemeckis-directed Charles Dickens adaptation, featuring Jim Carrey voicing Scrooge and ghosts alike, fell below pre-release projections, leading the domestic box office with $31 million over its first three days.
The overall domestic box office down 13 percent from the same weekend in 2008, according to one studio's estimates.
Also premiering was
Lionsgate awards aspirant "Precious: Based on the Novel 'Push' By Sapphire," which took in $1.8 million playing on only 18 screens spread across New York, Los Angeles, Chicago and Atlanta. The film's $100,000-per-screen average set a new industry record.
Meanwhile, for Disney, in releasing "A Christmas Carol" into a record 2,045 digital 3D screens, 181 of which were Imax, a hot start would seem imperative, given the film's production budget exceeded $180 million.
However, for solace, the studio could look to Zemeckis' previous motion-capture-animated holiday effort, Warner's "The Polar Express," a $165 million film that debuted to just $23.3 million on Nov. 10, 2004, but picked up steam as the holidays drew nearer, actually growing 24 percent in its fourth week and playing all the way through March for a $162.8 million domestic gross.
If further inspiration is required, Disney officials could venture from Burbank to Culver City, where Sony has seen its Michael Jackson concert-rehearsal film "This Is It" recover nicely from what appeared to many to be a downer start.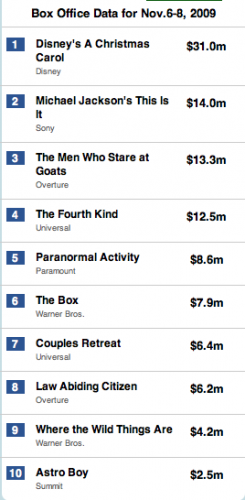 The film dropped only 40 percent in its second weekend, finishing with $14 million in North American ticket sales. Adding another $29 million internationally, "This Is It" – which cost Sony $60 million to acquire – has now grossed $186.5 million
Meanwhile, finishing in third place, Overture Cannes pickup "The Men Who Stare at Goats" took in $13.3 million in its first three days. Expectations for the movie were all over the map, with pre-release projections spanning $7 million-$18 million.
Paying less than $5 million for North American rights, however, Overture executive VP of distribution Kyle Davies was more than pleased with the opening for the star-studded satire, which features George Clooney, Ewan McGregor, Jeff Bridges and Kevin Spacey.
"And we think it's going to hold because there isn't a lot of comedy in the market right now," said Davies, specifically noting the long legs of Universal's "Couples Retreat."
In its fifth weekend in theaters, the Vince Vaughn/Jon Favreau-led ensemble comedy didn't drop a dime from week four, taking in another $6.4 million to bring its cumulative total to $96 million.
Indeed, counterprogramming through the glut of holiday-themed family movies, horror films and weighty awards aspirants might be where it's at. Another example: Overture's "Law Abiding Citizen" – an action film starring Jamie Foxx and Gerard Butler seemingly more fit for summer than fall — dropped only 17 percent in its fourth week of release. It's now grossed $60.9 million.
For its part, Universal could hardly call its new entry this weekend, "The Fourth Kind," counterprogramming, with the PG-13-rated film taking direct aim at "Paranormal Activity's" internet-driven horror/sci-fi audience.
Distributing the film only in the U.S. for producer Gold Circle, the strategy to market "Fourth Kind" with an undeniably derivative campaign paid off, with the movie exceeding pre-release "under-10" projections and grossing $12.5 million for the weekend.
Paramount's "Paranormal" finished a distant fifth, finally dropping big, 49 percent, and culminating the weekend with another $8.3 million. Its cumulative seven-week total stands at $97.2 million, with foreign receipts – which will be enjoyed by a hodgepodge of international distributors – not even tallied yet.
The weekend's fourth wide opener, Warner horror film "The Box," finished in sixth place with a projected total of $7.9 million, about par for the $30 million film that was majority-financed by Media Rights Capital.
Still, the big story for the weekend remained "A Christmas Carol," which did more than twice the business domestically of any other film in release — and took in another $12 million in foreign ticket sales — but still found its opening second-guessed due to its hefty price tag.
For his part, Disney distribution president Chuck Viane said the early release date made sense on a lot of levels. Besides "The Polar Express," Disney's "The Santa Claus" franchise has done good business over the years by premiering its three films in early November.
There's also the Dec. 18 release of Jim Cameron's "Avatar" to consider. "This gives us a full six weeks in the market before 'Avatar' premieres and takes all those 3D screens away," Viane noted.
Viane added that the significant year-to-year drop in the total size of the domestic box office probably impacted "A Christmas Carol," which had an audience that was 51 percent under the age of 25 and divided fairly evenly among males (47 percent) and females (53 percent).
"We were more than double our next closest competition," he said, "but would we have loved to have more? Without question."
Here's a look at how the top 10 at the weekend box office performed:
Disney's A Christmas Carol ($31.0 mil)
Michael Jackson's This Is It ($14.0 mil)
The Men Who Stare at Goats ($13.3 mil)
The Fourth Kind ($12.5 mil)
Paranormal Activity ($8.6 mil)
The Box ($7.9 mil)
Couples Retreat ($6.4 mil)
Law Abiding Citizen ($6.2 mil)
Where the Wild Things Are ($4.2 mil)
Astro Boy ($2.5 mil)