Iyanla Vanzant has already tried to fix troubled rapper DMX, Chris Brown's ex-girlfriend Karrueche Tran and a man who fathered 34 children with 17 women. Now she is taking on her biggest challenge yet — the city of Baltimore.
The host of OWN's "Iyanla: Fix My Life" will tape three sessions this week at Baltimore's Empowerment Temple, the church announced Tuesday on Instagram.
Following the April 27 funeral of Freddie Gray, the African-American man who died after suffering a severe spinal cord injury in police custody, Baltimore faced several days of unrest and calls for changes in the city's policing policies.
Also Read: Baltimore Unrest: Will the Media Keep Its Word on Having a 'Conversation' About Race?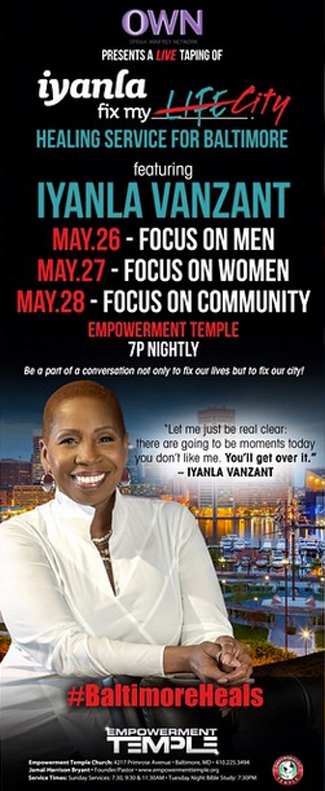 Empowerment Temple pastor, Rev. Jamal Harrison Bryant, told the Baltimore Sun that Iyanla's help is needed because "The people are in pain and need a way to get through it."
The self-described spiritual leader's OWN series focuses on fixing people's problems and helping them overcome conflict. But Twitter users aren't convinced the TV host is the right choice to help ease Baltimore's pain.
"Iyanla couldn't fix DMX. How is she going to tackle Baltimore?" one Twitter user wrote.
Another tweeted: "Iyanla is really nothing more than a glorified ambulance chaser going from one place/person to the next looking to make money."
Also Read: Larry Wilmore Rips Fox News Over Baltimore Riots 'Thugs Go Thugging' Reference (Video)
The flyer for the Baltimore event says Tuesday's gathering will focus on women. On Wednesday the goal is to help men heal, then on Thursday, the focus will turn to the community.
While the sessions will be taped for a podcast, a spokesperson for OWN told TheWrap, "Iyanla's appearance is not affiliated with the network" and "will not air on the Oprah Winfrey Network."
Iyanla trended on Twitter throughout the day Tuesday. Below is a sampling of reaction to her Baltimore visit.
I'm still trying to figure out what Iyanla is gonna do in #Baltimore?

— Max (@iamprograms4) May 26, 2015
The only thing Iyanla needs to fix is her man's plate.

— #AStrongWomen (@BaconSexSleep) May 27, 2015
Iyanla couldn't fix DMX. How is she going to tackle Baltimore? I know like 8 DMX's from Baltimore shorr

— Adam D (@AD_Renaissance) May 26, 2015
Iyanla is really nothing more than a glorified ambulance chaser going from one place/person to the next looking to make money

— Ruler of New Wakanda (@insanityreport) May 26, 2015
I wouldn't let Iyanla fix an askew wig on Sister O'Dell in the front pew on First Sunday.

— Anne Stank (@CorporateBarbie) May 26, 2015
Iyanla fix my curl pattern.

— derrick. (@boyofthebadland) May 26, 2015
Iyanla tried that routine in STL and it got us… No where.

— ShordeeDooWhop (@Nettaaaaaaaa) May 26, 2015
Has Iyanla ever successfully "fixed" someone?

— Kitty Wap (@phillybosslady) May 26, 2015
Iyanla shouldn't have announced her visit to Baltimore, it would've been much better received that way. But that ship has sailed.

— deray mckesson (@deray) May 26, 2015
Dear Iyanla, Do not pass go. Do not collect $200. And do NOT take your behind to Baltimore. Signed, Everyone

— PrestonMitchum (@PrestonMitchum) May 27, 2015
Iyanla is going to fix Baltimore…first I'm going to need for her to read this scripture. pic.twitter.com/5zCMyO8iS8

— Genghis Khandra (@LadyBugAssassin) May 26, 2015