"Argo" and "Zero Dark Thirty" have been named the top film scripts of 2012 by the Writers Guild of America.
The results should be good news for "Argo," the strong Best Picture favorite that appeared locked in a close battle with "Lincoln" and "Silver Linings Playbook" for the Adapted Screenplay Oscar.
And it should provide a smaller boost to "Zero Dark Thirty," because that screenplay's two biggest rivals at the Oscars, "Django Unchained" and "Amour," were ineligible for the WGA's Original Screenplay Award.
Rules that restrict WGA Awards eligibility to films produced under the guild's Minimum Basic Agreement or agreements by a handful of international guilds often disqualify Oscar contenders, or even winners such as "The King's Speech."
In the WGA's Adapted Screenplay category, though, the three dominant scripts were all in the running, giving "Argo" screenwriter Chris Terrio (above, with presenter Jessica Chastain) a potentially significant victory over Tony Kushner for "Lincoln" and David O. Russell for "Silver Linings Playbook."
The win for "Argo" gives it a commanding sweep of the guild awards — Producers Guild, Directors Guild, Writers Guild and Screen Actors Guild's ensemble acting award — and reinforces its position as a prohibitive favorite for the Best Picture Oscar.
Unusually for somebody who's film has won so much, Terrio seemed surprised and flustered during his speech, in which he talked about starting to write "Argo" in 2008, "at a time when I couldn't pay my rent … and I'd defaulted on my student loans. But I had my spec scripts and I had my guild card, and I can't tell you how that propped me up."
In a repeat of a snafu from last year's awards, the win for "Argo" was announced in New York long before the category came up in Los Angeles. While "Lincoln" screenwriter Tony Kushner was accepting an honorary award on the West Coast, he was losing a competitive award on the East Coast.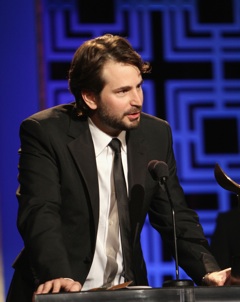 Throughout the evening, many of the major awards were announced far earlier in New York than they were in Los Angeles — a fact noted by "Zero Dark Thirty" writer Mark Boal (right), who took the stage and admitted, "Thanks to Twitter, I actually knew this was going to happen about five minutes ago."
Boal's win for "ZDT" came over a field that included Oscar nominees "Moonrise Kingdom" and "Flight," along with non-nominees "Looper" and "The Master."
His speech paid tribute to his fellow writers but took special pains to single out director Kathryn Bigelow, who "took my script and made it live and breathe and fly."
"Breaking Bad" was named the year's best drama series — though in the separate episodic drama series category, which honors individual episodes rather than entire series, its four separate nominations likely split the vote and allowed an episode of "Mad Men" to win.
While the episodic comedy award went to an episode of "Modern Family" — or, as host Nathan Fillion called it, "the show they simply won't stop throwing awards at" — the comedy series award was given to a surprise winner, "Louie."
In another surprise, "Portlandia" won in the the comedy/variety category over a gallery of heavyweights that included "The Colbert Report," "The Daily Show with Jon Stewart," "Real Time with Bill Maher" and "Saturday Night Live."
Lena Dunham's "Girls" was named best new series.
"Hatfields and McCoys" and "Game Change" won in the two longform television categories.
The WGA, West ceremony took place at the JW Marriott hotel at L.A. Live and was hosted by "Castle" star Fillion, while the WGA, East ceremony was held at the B.B. King Blues Club in New York City and hosted by Richard Kind.
Kushner was honored with the Paul Selvin Award. The honor goes to a member "whose script best embodies the spirit of the constitutional and civil rights and liberties which are indispensable to the survival of free writers everywhere."
In other honorary awards, playwright-screenwriter Tom Stoppard was given the Screen Laurel Award for lifetime achievement in motion pictures; the writing team of Joshua Brand and John Falsey received the Paddy Chayefsky Television Laurel Award; "Everybody Loves Raymond" creator Phil Rosenthal took the Valentine Davies Award for his humanitarian efforts; past WGA, West president Daniel Petrie, Jr., received the Morgan Cox Award for service to the guild; and Japanese directors Akira Kurosawa, Shinobu Hashimoto, Ryuzo Kikushima and Hideo Oguni were named recipients of the Jean Renoir Award for international writers.
In New York, David Koepp was given the Ian McClellan Hunter Award for Career Achievement, while Bob Schneider received the Richard E. Jawlow Award for service to the guild. The WGA, East also presented a special tribute to the late Nora Ephron.
The winners:
FILM CATEGORIES
Original Screenplay: "Zero Dark Thirty," Mark Boal
Adapted Screenplay: "Argo," Chris Terrio
Documentary Screenplay: "Searching for Sugar Man," Malik Bendejelloul
TELEVISION CATEGORIES
Drama Series: "Breaking Bad," Sam Catlin, Vince Gilligan, Peter Gould, Gennifer Hutchison, George Mastras, Thomas Schnauz, Moira Walley-Beckett
Comedy Series: "Louie," Pamela Adlon, Vernon Chatman, Louis C.K.
New Series: "Girls," Judd Apatow, Lesley Arfin, Lena Dunham, Sarah Heyward, Bruce Eric Kaplan, Jenni Konner, Deborah Schoeneman, Dan Sterling
Episodic Drama: "The Other Woman" ("Mad Men"), Semi Chellas and Matthew Weiner
Episodic Comedy: "Virgin Territory" ("Modern Family"), Elaine Ko
Long Form – Original: "Hatfields and McCoys," Nights Two and Three, Teleplay by Ted Mann and Ronald Parker, Story by Bill Kerby and Ted Mann
Long Form – Adapted: "Game Change," Danny Strong
Animation: "Ned and Edna's Blend Agenda" ("The Simpsons"), Jeff Westbrook
Comedy/Variety (Including Talk) – Series:
""Portlandia," Fred R. Armisen, Carrie Brownstein, Karey Dornetto, Jonathan Krisel, Bill Oakley
Comedy/Variety – Music, Awards, Tributes – Specials:
"66th Annual Tony Awards," Dave Boone, Paul Greenberg, David Javerbaum, Adam Schlesinger
Daytime Drama: "The Young & The Restless," Amanda Beall, Jeff Beldner, Brent Boyd, Susan Dansby, Janice Ferri Esser, Jay Gibson, Scott Hamner, Maria Kanelos, Natalie Minardi Slater, Beth Milstein, Michael Montgomery, Anne Schoettle, Linda Schreiber, Lisa Seidman, Sarah K. Smith, Christopher J. Whitesell, Teresa Zimmerman
Children's – Episodic & Special: "The Good Sport" ("Sesame Street"), Christine Ferraro
Children's – Long Form or Special: "Girl vs. Monster," Annie De Young and Ron McGee
Documentary – Current Events: "Money, Power and Wall Street: Episode One" ("Frontline"), Martin Smith and Marcela Gaviria
Documentary – Other Than Current Events: "The Fabric of the Cosmos: The Illusion of Time" ("Nova"), Joseph McMaster
News – Regularly Scheduled, Bulletin or Breaking Report: "Tragedy In Colorado: The Movie Theatre Massacre," Lisa Ferri, Joel Siegel
News – Analysis, Feature or Commentary: "The Ghost of Joe McCarthy" ("Moyers & Company"), Bill Moyers, Michael Winship
RADIO CATEGORIES
News – Regularly Scheduled or Breaking Report: "World News This Year 2011," Darren Reynolds
News – Analysis, Feature or Commentary: "Dishin Digital," Robert Hawley
PROMOTIONAL WRITING AND GRAPHIC ANIMATION CATEGORIES
On-Air Promotion (Radio or Television): "Partners", Dan A. Greenberger
Television Graphic Animation:
"CBS News Animations," David Rosen
"The Oscars" ("Sunday Morning with Charles Osgood"), Bob Pook
NEW MEDIA AND VIDEOGAME CATEGORIES
Original New Media: "Jack in a Box": "The Compromises, Episode 1," "The Pest, Episode 3," The Snake, Episode 4," "The Bonding, Episode 6," "The Future, Episode 7/Series Finale," Michael Cyril Creighton
Derivative New Media: "The Walking Dead: Cold Storage": "Hide And Seek," "Keys to the Kingdom," "The Chosen Ones," "Parting Shots," John Esposito
Videogame Writing: "Assassin's Creed III: Liberation," Richard Farrese, Jill Murray