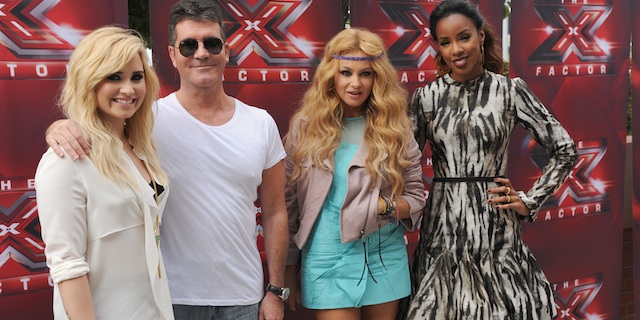 Bucking the usual status quo of hiring contentious divas, Fox's "The X Factor" has assembled a judging panel that actually gets along.
Executive producer and judge Simon Cowell replaced the two seats left vacant by Britney Spears and L.A. Reid after Season 2 with two people he knew had the music chops and would probably get along with him and returning judge Demi Lovato.
"I've wanted to work with Paulina [Rubio] for years and Kelly [Rowland] did the UK show for me and did a brilliant job," Cowell told TheWrap during a press conference at USC's Galen Center in Los Angeles.
Also read: Fox Announces Fall Premiere Dates: 'X Factor,' 'Bones,' 'Glee' Returns
"So, it was a very easy decision to put these three together and you hope it's going to work and they're going to get on well. And luckily they did," he continued.
In fact, a show insider told us that the three women get along so well that Cowell can sometimes be excluded from the love fest.
"That's the price you pay," Cowell said when we brought the tidbit up.
"The whole cast this year, there's something really special about it," Lovato explained. "And when we come together I feel it's actually a family, which is actually so rare and I feel like it never happens, especially on these shows."
See photos: 'X Factor' Season 3 First Look: New Judges Kelly Rowland, Paulina Rubio at Charleston Auditions
Lovato declined to compare the chemistry between the current judges with last season's group. Of course, Lovato and Cowell are still up to their playful love-hate antics.
"We have to play referee," said Rowland. "They'll pour water on each other, take each other's microphones…"
In past seasons, Cowell and the show's producers had allowed the various firings and hirings of its judges and hosts to dominate the headlines – by design it felt to some critics.
Yet this season, it announced that host Mario Lopez would be back sans co-host Khloe Kardashian and that it had added Rowland and Rubio with much less fanfare than usual.
Also read: News Corp's David Hill to Oversee 'American Idol,' 'X Factor'
Cowell said that he saw Spears and Reid's departures as an opportunity to differentiate "The X Factor" from other TV talent shows.
"I just thought that all these shows were beginning to blur into the same show," he said.
"I think that what we did well last year was, particularly with the groups Fifth Harmony and Emblem3, was to show that on a show like this you can find an artist who can sell records that sell all over the world. That's really the legacy of the show. It's got to be that when you watch a show, you really believe that you're watching a star being found and developed rather than just a winner."
"That's why we're here," Rubio later added, "to make artists that sell millions of albums and stay here for a long time."
"The X Factor" returns Wednesday, Sept. 11 at 8/7c on Fox.