The newly announced merger between Disney and 21st Century Fox means that you can stop writing fan fiction about the Marvel Cinematic Universe and accept that crossovers are finally a possibility. Franchises like "X-Men," "Deadpool," "Fantastic Four," "The Simpsons" and more are set to join the Mouse House if the deal meets regulatory approval in the next 12 to 18 months.
The massive deal, which was announced Thursday, will bring many Fox properties over to the Disney empire, including its film and TV studios and much of its non-broadcast television business, including regional sports networks and cable networks such as FX, FXX and Nat Geo.
The buyout would also give Disney ownership over James Cameron's "Avatar" franchise, which is scheduled to churn out two more sequels. Grabbing up "Avatar" means that Disney would own three of the top five highest-earning flicks of all time with "Star Wars: The Force Awakens" at No. 1, "Avatar" at No. 2 and "Marvel's The Avengers" sitting at No. 5. Paramount's "Titanic" and Universal's "Jurassic World" come in at third and fourth, respectively.
Also Read: X-Men, Fantastic Four Fans Rejoice at Prospect of Mega-Avengers Movies With Disney-Fox Merger
Meanwhile, the Murdoch-run Fox will retain the Fox Broadcasting network and 28 owned-and-operated U.S. TV stations, Fox News Channel, Fox Business Network, FS1, FS2 and Big Ten Network. These will be formed into a "new FOX" company that will be spun off to its shareholders.
Below is a chart of many of the movie and TV franchises you can expect to see Disney take over, after shelling out $52.4 billion in stock to grab this chunk of Fox.
Also Read: Rupert Murdoch Teases Recombining NewsCorp and Post-Disney Fox: 'Ideally Yes'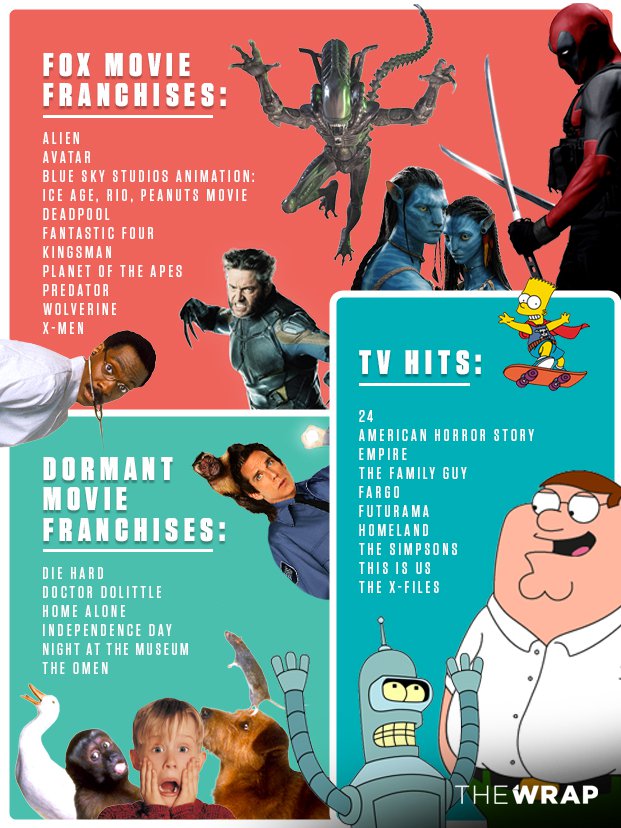 Others you might see rockin' some Mickey ears include:
"Buffy the Vampire Slayer," (and the rest of Joss Whedon's TV universe),
"American Dad"
"Goosebumps"
"M*A*S*H"
"The Fly"
"Cocoon"
"Romancing the Stone"
"Fresh Off the Boat"
"The Last Man on Earth"
"Life in Pieces"
"Speechless"
"Star"
"The Mick"
"The Gifted"
"Ghosted"
"The Orville"
Upcoming:
"9-1-1"
"LA to Vegas"
"The Resident"
Tony Maglio and Sean Burch contributed to this post.