Yahoo will unite its top sports journalists with gold medal winners for coverage of the 2012 Summer Olympics in London, hoping to once again be the top online destination for the global competition.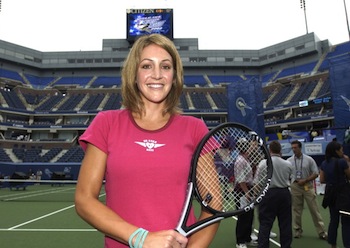 Yahoo will host an Olympics-only hub throughout the summer games, combining written breaking news and analysis with original video and photo galleries.
Contributors include past champions like Dan O'Brien and Summer Sanders (pictured left), as well as Yahoo's big guns like Charles Robinson, Pat Forde and Dan Wetzel.
Robinson has written several groundbreaking investigative pieces, including an exposé of the Miami football program about improper relationships between a booster and players.
Also Read: Yahoo Sports Piece on Collegiate Booster Gets Sports Media Buzzing
"We're programming immersive digital experiences for a global audience and delivering a locally relevant editorial voice in each market," Ross Levinsohn, EVP and head of global media for Yahoo, said in a statement. "Our angle is to cover the stories behind the stories with our own exclusive talent, including multiple former Olympians — across screens, across the globe."
Yahoo was the top online destination for the past three Olympics, besting even NBC, which has been and continues to be the official broadcaster. According to ComScore, it drew 32 million unique visitors during the 2010 Winter Games in Vancouver and 38.5 million uniques during the 2008 Summer Games in Beijing.
In keeping with its continued push into original video, Yahoo will launch a series of new shows, including "Memorable Moments," which celebrates compelling stories from Olympics past using past Olympians as well as writers and experts.
"London Minute" will be a daily show from the British capital featuring "quick-hitting video snippets" while "Elite Athlete Workouts" will document athletes as they portray for the world's biggest stage.
Visa and Proctor & Gamble will both serve as sponsors and more shows will be announced in the coming weeks.