Whenever people say that the Internet has killed long-form, investigative journalism, reporters like Yahoo Sports' Charles Robinson come along and remind everyone to remain optimistic.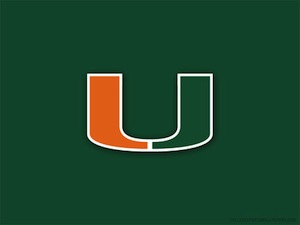 Robinson's most recent article, an investigation of benefits a "renegade booster" from the University of Miami gave to the school's players uncovers the continuation of a corrupt culture that seems endemic to one of college football's national treasures.
The list of illicit benefits is quite extensive.
The booster claims players received not just cash but "prostitutes, entertainment in his multimillion-dollar homes and yacht, paid trips to high-end restaurants and nightclubs, jewelry, bounties for on-field play (including bounties for injuring opposing players), travel and, on one occasion, an abortion."
The painstaking work Robinson put in is evident in the amount of documents obtained, the detail of certain payments and the scope of people interviewed.
Of course, the story also frequently reminds the readers of the extent to which the reporters went: "20,000 pages of financial and business records from his bankruptcy case, more than 5,000 pages of cell phone records, multiple interview summaries tied to his federal Ponzi case, and more than 1,000 photos. Nearly 100 interviews were also conducted with individuals living in six different states. In the process, documents, photos and 21 human sources – including nine former Miami players or recruits, and one former coach – corroborated multiple parts of Shapiro's rule-breaking."
This effort has drawn rave reviews from Robinson's co-workers, his fans and his direct competitors.
The New York Times' college sports reporter Pete Thamel tweeted that it is "just jaw dropping stuff. Speechless."
Boston Globe sports editor Joe Sullivan tweeted that the NCAA should hire Robinson and colleage Dan Wetzel as its investigative team.
Needless to say, Wetzel was tooting Robinson's horn too.
It may seem like improper benefits continue uninhibited in college football, but at least there are still reporters to point that out — in print and online.