"Black-ish" star Yara Shahidi said that the reaction to Donald Trump's era of "regression" will  be its own powerful political movement in a talk that spoke to identity, youth and activism at TheWrap's Power Women Breakfast in San Francisco on Thursday.
"The way I've always thought of things, every great revolution has occurred from a great regression — we are witnessing a regression that inspires a movement," said Shahidi, speaking to a room of media and tech executives at the Dolby Laboratories headquarters.
Olympian and three-time gold medalist Kerri Walsh Jennings also spoke at the event along with digital entrepreneurs Lisa Sugar, Kendra Bracken-Ferguson and Kathleen Grace. The event trended on Twitter and was watched by thousands on Facebook livestream.
Also Read: 'Black-ish' Star Yara Shahidi for President? 'I Qualify in 2035' (Exclusive)
The 17-year-old actress stunned the audience with a political sophistication well beyond her years.
"So many people in this world, continuing now, have felt disenfranchised, and the issue that we have occurring over and over again is that when we give them the right to feel as though to come under the compass of what it means to be American or what it means to be a full citizen," she went on.
"What we're seeing right now with the current administration is slowly realizing, especially my generation, how important policy is," she elaborated. "I think more than the cultural change that has to occur, there's social change that has to occur. Policy has to change, so that we don't live under the legal barriers that prevent us from being ourselves. That's what I mean when I say the great regression that occur prompts progress."
Shahidi grew up during the Obama Administration which she said "broke so many barriers."
"Being around those people that are so aware at a young age and figuring out what to do with their platform is what inspires me especially given the current administration — it didn't take much for us to mobilize," she added. "Just to have that support network with what's happening right now, it seems an inevitable thing that's going to happen in which there will be change. I feel like what we're witnessing right now is the amalgamation of multiple movements. We are no longer dealing with the separation of civil rights movement, with the woman's liberation movement, with the LGBTQ movement, with the labor movement — we're working with the amalgamation of all of it because what we have come to realize is that identity is what we are fighting for."
Shahidi said identity should not be divided into compartments.
"You cannot separate one's identity into multiple things but rather combine them together so that somebody can really fight for an opportunity that's specific to who they are," said Shahidi. "I am a young, black, Iranian woman, so rather than trying to divide my time between what I care about, what we're witnessing right now in the revolution that's occurring , I can stand proud and tall in who I am, rather than separating who I am into multiple pieces and appreciate the nuance of what happens when it comes together."
Also Read: Watch 'Black-ish' Star Yara Shahidi Speak at TheWrap's Power Women Breakfast on Facebook Live (Video)
Shahidi committed to Harvard University after "campaigning" for four years to get their attention, but Shahidi was also accepted to Stanford, Brown, NYU, UCLA and Yale, among others. She plans to major in Social Studies and African-American Studies and wants to head to Washington D.C. sometime in her future.
The Power Women Breakfast series brings together influential women of entertainment, media, technology and brands in key cities to network and connect. TheWrap has built a broad community of professional women who are decision makers and mothers, leaders and wives, innovators and activists. The franchise is now in four cities Los Angeles, New York, San Francisco and Washington, D.C.
San Francisco hosted its third Power Women Breakfast this year, with Kerri Walsh Jennings joining Shahidi on stage. The Olympic medalist and the professional beach volleyball player talked to TheWrap's Editor-in-Chief Sharon Waxman about heading to the 2020 Olympics in Tokyo with a new partner, Nicole Branagh, after winning three gold medals with previous partner Misty May-Treanor and winning bronze last year with April Ross.
Also Read: Olympic Medalist Kerri Walsh Jennings Aims For Tokyo 2020 At 38: 'I Don't Believe in Barriers' (Exclusive Video)
"I don't believe in barriers," she said. "I believe my heart will tell me [when to stop]. I pray that my body doesn't give out — my body feels amazing. I've had five shoulder surgeries, I've been through a lot, my training is smarter and my diet is smarter in my recovery processes, and I have amazing trainers. I honestly pray for clarity that it's clear when I'm done, my heart will tell me that, 'Kerri, you're done.'"
She continued, "My mission in the next four years is just grow in my sport — it's such a beautiful, empowering sport for women, and the drive in this country, the opportunities this country survive on are huge and I want to take it to the next level … I want to beat the world."
TheWrap's Power Women Breakfast also featured a digital panel in which founder of PopSugar, Lisa Sugar, CEO of New Form Kathleen Grace and CEO of The Braintrust Kendra Bracken-Ferguson discussed the changes in media and technology. Bracken-Ferguson said that social networks will continue to evolve and we will continue to evolve and we will see them as a competitor to traditional news sources.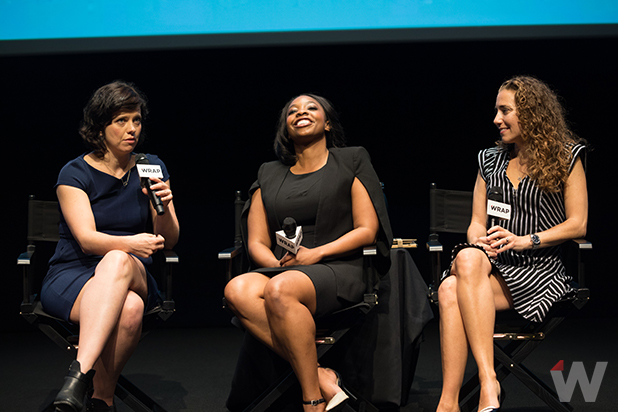 "I have a theory about social networks in terms of how they evolve: I think we're going to see more pop up," Bracken-Ferguson said. "We're already seeing it. They're not going to go away. I think that when you look at the content that's coming out of them and the technologies, they are media companies. Any time you can go with a social networking site and use it as your search engine and find content you wouldn't otherwise be able to find, or content that is competing with the traditional news source, I think they are media channels… I think they are hubs, I think they are a wealth of information, they are a resource of eyeballs, but I think that as people as brands are looking to build their own communities, you have to think about what's important and it's the data.
The event was sponsored by Dolby and Creative Future. A charity auction raised money for Bay Kids Studios, a non-profit that helps sick children make films.