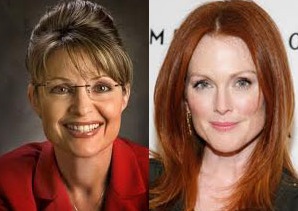 Julianne Moore better brush off those folksy aphorisms.
The four-time Oscar nominee has been tapped to play Sarah Palin in HBO Films' upcoming adaptation of the best seller "Game Change."
The movie is based on the book by John Heilemann and Mark Halperin, which overflowed with insider gossip about the inner workers of the McCain and Obama operations during the 2008 presidential race.
Heilemann and Halperin's book depicted Palin as out of her depth and unprepared for the national spotlight.
No word yet on who will play John McCain, Barack Obama or Hillary Clinton.
To play Wasilla's most famous resident, Moore will have to cross the political aisle. She endorsed Obama in the presidential race, and has been an outspoken advocate for liberal causes such as abortion rights and same sex marriage.
As TheWrap first reported, "Game Change" will be directed by Jay Roach of the "Austin Powers" franchise fame.
Danny Strong wrote the screenplay. The pair previously collaborated on "Recount" for HBO. That Emmy winning film looked at the 2000 Florida presidential election recount.
Moore recently appeared in last year's Best Picture nominated "The Kids Are All Right." She will next join Robert De Niro in Focus Features' adaptation of "Another Bulls#*t Night in Suck City."
Moore is represented by CAA.