If you were unable to watch YouTube videos on Tuesday night, you're not the only one. The world's biggest video site went down for about an hour and a half in an outage that also affected YouTube TV and YouTube music.
The outage started shortly after 6:00 p.m. PT Tuesday but appeared to be fully resolved by around 7:35 p.m.
"Thanks for your reports about YouTube, YouTube TV and YouTube Music access issues," YouTube tweeted about 45 minutes after the outage began. "We're working on resolving this and will let you know once fixed. We apologize for any inconvenience this may cause and will keep you updated."
YouTube confirmed the site was fixed at 8:00 p.m. PT.
During the outage, some YouTube users were met by a search bar and an otherwise blank screen on the site's homepage, though some also saw a distorted image promoting YouTube Music.
While the site's search function also continued to work, results pages featured grayed-out icons covering up the video thumbnails. As for the videos themselves, the one constant was that all failed to load, displaying instead the message, "An error occurred. Please try again later."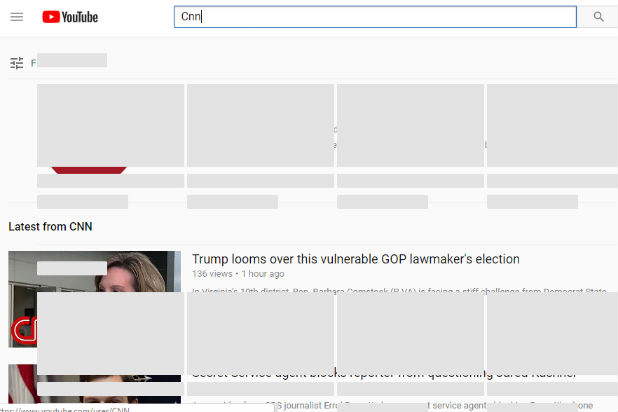 Many users also reported errors ranging from blank screens to "invalid response" and 500 internal server error messages.
Of course, many more users did what people do in times of crisis — meme the hell out of it.
"Two years have passed since the great #YouTubeDOWN outage. We travel quietly day and night seeking safety from roving bands of toddlers. Their screams for Wi-Fi are the last thing many hear before it's too late." pic.twitter.com/9N3mTciTVH

— Adam Ballard (@8BITABS) October 17, 2018
I shut YouTube down because of all your annoying comments (you know who you are) do better think twice next time because I don't turn a blind eye not never not now not ever

— adam lz (@Adam_LZ) October 17, 2018
Me on my way to my mom's room to annoy her since youtube is down #YouTubeDOWN pic.twitter.com/t7HNUImMcc

— ???????????? ⋈ (@Chaexhoney) October 17, 2018
me and my 3 brain cells trying to do an essay due in 5 hours with youtube down pic.twitter.com/cUsKFXrdMy

— lala #narcissist (@chuusaek) October 17, 2018
YouTube, which launched in 2005, has rarely experienced widespread outages, though YouTube TV did go offline briefly during the World Cup earlier this year.