After a dizzying week of awards, parties and nominations, who has the upper hand and who needs a little help?
The Golden Globes are over. I got through a weekend of one awards show and seven parties (skipping a few of the others), and then two days of two more awards shows and six nomination announcements.
Become a member to read more.
And now that the dust has cleared, at least for a minute or two, it's time to take stock and figure out what it all means. Or, at least, what I've learned in the wake of the Golden Globes, the BAFTA, DGA, PGA and WGA nominations and everything else that has happened in the first week of 2020.
So here are the lessons I can take from the past week.
1. People who should know better continue to overestimate the importance of the Golden Globes.
It's a TV show, people. The stars show up because people watch, and people watch because the stars show up. The voters are 87 foreign journalists, a voting body about as far from the Oscars as you can imagine. And yet some Oscar-watchers discuss the results as if they could influence the Academy. The New York Times, no less, called the Globes' shutout of "The Irishman" "a moment when the Hollywood establishment pushed back against the streaming services that have aggressively arrived on the scene."
I mean, what did the Hollywood Foreign Press Association put in that vegan soup they served on Sunday night to make the New York Times think the HFPA represented "the Hollywood establishment?" It's a group of full- and part-time journalists who are treated nicely by the Hollywood establishment, but to interpret their choices as indicative of anything besides their own peculiar tastes is just dumb.
And yes, sometimes their tastes coincide with the tastes of other voting bodies, including the Academy. But that doesn't mean they affect those other voters.
Did any Oscar voters watch the Globes on Sunday and think, "Hey, I'd better watch that 'Once Upon a Time … in Hollywood' movie before I vote on Tuesday?" Of course not — if they haven't seen it already, they're not going to. Did any of them say, "Well, I guess I don't need to watch 'The Irishman' now that it hasn't won anything?" Again, of course not.
It's possible that a handful of members — out of almost 8,500 voters — were prompted to watch "1917," the most late-breaking of the major contenders. But I bet most of them would have done it anyway.
What the Golden Globes change is not the Oscar race, but some people's perception of the Oscar race. And that's too bad.
Also Read: Golden Globes Analysis: The Stars Ignore Ricky Gervais on a Night of Surprises
2. We now have a Top 5.
Three movies have now been nominated by the Directors Guild, Producers Guild and Writers Guild, and have received an ensemble nomination from the Screen Actors Guild: "The Irishman," "Jojo Rabbit" and "Parasite."
A fourth, "Once Upon a Time … in Hollywood," has the SAG, DGA and PGA noms, and was only bypassed by the WGA because its rules make it ineligible. (If Quentin Tarantino's script had qualified for the guild award, there's absolutely no question he would have been nominated.)
And a fifth, "1917," was nominated by DGA, PGA and WGA, missing only the SAG ensemble nomination that would always be a long-shot for a film that for the most part focuses on two cast members. (SAG likes its ensemble nominees to have big casts.)
Those films are all likely Oscar nominees and potential winners at this point, a feeling that is reinforced by the fact that they're the five Directors Guild nominees — because as long as the DGA has been giving out awards, which it started doing in 1948, no film has ever won the Oscar for Best Picture without its director first being nominated by the guild.
Also Read: Taika Waititi Joins Scorsese, Tarantino, Mendes and Bong With Directors Guild Nomination for 'Jojo Rabbit'
3. "1917" has a potential Achilles heel.
Still, the lack of an ensemble or an individual acting nomination for "1917" is troubling for supporters of the film. That's because Sam Mendes' WWI drama has a pretty good chance of being left out of the Oscar acting and screenwriting categories, a double whammy that history says would be fatal to its Best Picture chances.
If it does land a Best Original Screenplay nom, which it could do since it was nominated by the Writers Guild, "1917" could be in the same boat as 2008 Best Picture winner "Slumdog Millionaire," which won without any acting nominations. But if it misses acting and writing, you'll have to go back to "Grand Hotel" in 1932 to find a film that won Best Picture without recognition in at least one of those other two categories.
And "Grand Hotel" is such an outlier that it shouldn't even count — it was only nominated in one category, Outstanding Production (a.k.a. Best Picture), which it won.
Also Read: '1917': How Sam Mendes & Co. Re-Created World War I in a Single Take
4. The acting races are looking awfully settled.
You can't use the Golden Globe results to argue for the fact that Joaquin Phoenix, Renée Zellweger, Brad Pitt and Laura Dern are the likely Oscar winners for acting. And if they win this weekend at the Critics' Choice Awards, that won't seal the deal either.
But it's an understatement to say that it's looking good for all four. Jennifer Lopez's best chance at beating Dern came with the star-happy voters at the Globes, but she fell short. Now Dern, Pitt, Zellweger and Phoenix seem primed to run the table at Critics' Choice, SAG and the Oscars — unless Charlize Theron pulls off an Olivia Colman-style upset or Phoenix's obvious discomfort with the whole idea of awards tips the scales toward Adam Driver. (But Driver isn't the most enthusiastic campaigner, either.)
5. A few movies could really use some good news about now.
Speaking of Driver, his film "Marriage Story" has quietly slipped out of the top rank of contenders, despite the no-holds-barred campaign being waged by Netflix on its behalf. Its WGA and PGA nominations suggest that it should still coast to a Best Picture nomination, but Noah Baumbach's family drama no longer feels as formidable as it did when critics were the only ones sounding off.
Other films that have stumbled a bit but are still in the running are "Little Women," which could turn everything around if Greta Gerwig lands a Best Director nod from the Academy; "Ford v Ferrari," which has only the PGA among the major guilds; "The Two Popes," which once seemed like a tailor-made awards film until the guilds started ignoring it; and "Bombshell," which scored with a SAG ensemble nod but faded when the other guilds bypassed it. (But two of its stars, Charlize Theron and Margot Robbie, are in good shape.)
As for "Uncut Gems," "The Farewell," "Booksmart," "Just Mercy," "A Hidden Life" and a lot of others — well, hope springs eternal.
Also Read: The Safdie Brothers Detail the 10-Year Journey to Make the Adam Sandler Drama 'Uncut Gems'
6. Critics and pundits are underestimating "Joker."
Since seeing Todd Phillips' dark drama at the Toronto Film Festival, I've been thinking that Joaquin Phoenix is a shoo-in for a Best Actor nomination but the film itself might be on the bubble for a Best Picture nomination. But the nod from the Producers Guild and Writers Guild suggest that I'm wrong, and the field-leading 11 BAFTA nominations make that point just as clearly.
Sure, it might be too divisive to win, because the Oscars' ranked-choice voting uncovers the consensus favorite in the final round of voting. But lots of voters find it powerful and compelling, and it has finally dawned on me that those of us who thought it was on the bubble are probably dead wrong.
7. Bong Joon Ho is the life of every party.
Oh, the South Korean director isn't working the room for votes or hitting the dance floor or anything like that. But anytime he and his "Parasite" cast members show up at an awards-season event, you can count on them being the center of attention, fawned over by everyone from Brad Pitt (at the AFI awards lunch) to Noah Baumbach, Laura Dern, Rian Johnson, Edgar Wright and Leonardo DiCaprio (at a Guillermo del Toro-hosted Sunset Tower soiree).
Director Bong, who travels with a translator who says she also wants to direct, doesn't exactly bask in this attention, though he's clearly appreciative. When he came to TheWrap offices a couple of months ago and I introduced him to our film team, who told him how much they loved his movie, he grinned sheepishly and said, "This is getting embarrassing." And one Oscar voter who was at the Sunset Tower party said that at one point he and his wife had found a quiet corner to relax when they were joined by Bong, who was looking for a bit of refuge himself.
But the guy is an undeniably hot property, which leads to my next lesson.
Also Read: How 'Parasite' Director Bong Joon Ho Created the Year's Most Dangerously Charming Film
8. The odds of another picture/director split are growing.
In five of the last seven years, Best Picture and Best Director have gone to different films — in most cases, the former award to an actor-driven drama and the latter to a more impressive technical accomplishment.
This year, a split seemed unlikely, because the top picture contenders — Scorsese's "The Irishman," Tarantino's "Once Upon a Time … in Hollywood," Mendes' "1917," Bong's "Parasite" — were such clear, strong directorial statements that the two awards seemed to go hand in hand.
But is that really true? Bong has become such a favorite on the awards circuit that I could now see him winning Best Director even if voters think it's enough to give his movie Best International Feature Film and leave Best Picture for somebody else's movie. Or Mendes could get the directing prize for his technical accomplishment, or the award could turn into a de facto career award for Tarantino.
I'm not ready to predict a split yet, but I'm not going to write it off the way I would have a month ago.
Also Read: Palm Springs: Renée Zellweger, Laura Dern and More on Increased Diversity and What Still Needs to Be Done (Video)
9. The Producers Guild Awards has gotten very, very important.
In a year as unsettled as this one, sifting the tea leaves and trying to figure out what the nominations are telling us is one thing. But what we really need to make sense of things is for a guild composed of actual filmmaking professionals to give out awards and tell us who's on top.
And the first major guild that will do that is also the one that means the most: the Producers Guild Awards, the only other Hollywood voting body that uses the same preferential or ranked-choice method of counting ballots that the Academy does. The PGA will deliver its verdict on Jan. 18, and it'll be by far the clearest indicator of what the true frontrunner is.
Still, Oscar voters won't even begin to cast their final ballots until almost two weeks after the Producers Guild Awards, which could give people time to change their minds. And while the PGA and Oscars matched eight times in the 10 years since both groups expanded their best-picture categories and instituted ranked-choice, their winners didn't match in 2015 or 2016.
So the guild will be important, just not infallible.
Also Read: 'Parasite,' 'The Irishman,' '1917' Land Producers Guild Nominations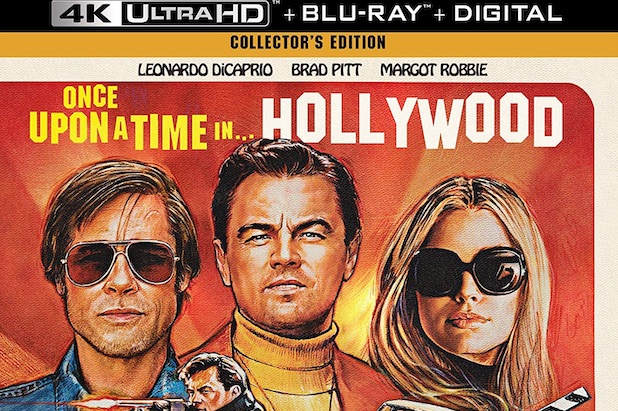 10. "Once Upon a Time … in Hollywood" has a punctuation problem.
OK, this is a minor thing, but it bugs the hell out of me.
When it was released, Quentin Tarantino's film was titled "Once Upon a Time … in Hollywood," with the ellipses between Time and in. That's how it was listed in the Cannes catalog when it premiered at that festival in May, that's how it was advertised and that's how it's listed in the Academy's Reminder List of Productions Eligible for the 92nd Academy Awards on the AMPAS website.
But according to their press releases, the Directors Guild and Producers Guild both nominated "Once Upon a Time in … Hollywood," with the ellipses between in and Hollywood. And as I mentioned in this space before, that's also the punctuation used on screeners of the film that were sent to voters — and now that it's been released to home video, that's the way it shows up on the DVD boxes as well.
The original punctuation makes more sense thematically, setting the movie up as a fairy tale (which it is) and then pausing before giving it a setting. And that original punctuation, according to a spokesperson for the film, is the correct one.
So why does the Academy use one version and the guilds use another? Why did Sony release it one way and then put it on home video the other way?
Why, oh why, is that damn ellipses moving?
But if this is a story about what I've learned so far this awards season, I guess this isn't something I've learned. Instead, it's something I want to learn.
8 Times Oscar Got It Wrong - From 'Crash' to Kevin Costner (Photos)
1 of 9
Some examples, from the major Academy Awards categories, of the voters backing the wrong horse
The history of the Academy Awards is the history of outside observers complaining that the voters got it wrong. (In its very first year, Charlie Chaplin was nominated in the now-defunct "Best Directing - Comedy Picture" category -- and lost.) And while our perceptions of Oscar mistakes often have a lot to do with how movies age and how tastes change, sometimes it's immediately apparent that a mistake was made. Here are some examples of choices from the major categories that seemed like flubs right out of the gate.