Let's be honest – Some had a great 2010 and some had a year that just sucked. New stars, new formats, new judges brought their own rewards to Andrew Garfield, 3D and "American Idols" – not always with the same stellar results. If you were Russell Crowe, 2010 won't be leaving the same jump in your step it did for Roman Polanski or Netflix … in our 10 of 2010, TheWrap's best and brightest show you why.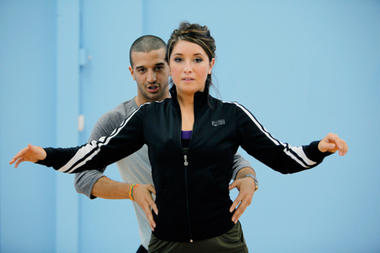 1. WINNER: DANCING WITH THE STARS
ABC does a scarily good job of casting its ratings behemoth, which boasts a concept so wholesome and direct it could have played in the 1950s — which of your favorites stars is the best dancer? Yet imaginative casting turns a simple dance contest into a discussion of celebrity, politics, sexuality, and who deserves to succeed in America 2010. DWTS rules in the ratings not just because people care about the dancing, but because of the show's capacity to reward and punish.
2. LOSER: BIG STUDIO COMEDIES
Was "The Hangover" just one year ago? What happened? 2010 brought us "How Do You Know," "Sex and the City 2," "Due Date," "Morning Glory," "Dinner for Schmucks" There were only four comedies in the year's box office top 10 — all animated.
READ THEWRAP'S YEAR IN REVIEW: FROM MOGULS TO MOVIES TO … WTF!? HERE
3. WINNER: ROMAN POLANSKI
LA DA Steve Cooley failed in his bid to become California's Attorney General and American justice is empty handed again after failing to bring the self exiled Oscar winning director stateside to face the fallout of his 1977 rape of a 13-year old. The 77-year old Polanski, whose extradition to the US was refused by the Swiss on July 12, is once again free to live out his life in France. He's riding high on big European Film Award wins for "The Ghost Writer" which he edited and saw released while under arrest. And, once again embraced by Hollywood, Polanski's preparing to make the inevitable Oscar nominated "God of Carnage" with A-listers Kate Winslet and Jodie Foster.
4. LOSER: RUSSELL CROWE
Studios are going to think twice before putting up with the salary demands and attitude required to work with the one-time Oscar winner, whose 2010 films, would-be summer blockbuster "Robin Hood" and "The Next Three Days," were only the latest in a string of box office failures. "Gladiator II" anyone?
5. WINNER: ANDREW GARFIELD
Quite frankly, the 27-year-old British actor was the Movie Star of the Year, showing off his versatility in "The Social Network," "Never Let Me Go," "Red Riding: 1974" and Spike Jonze's short film "I'm Here." He's practically guaranteed an Oscar nomination for his portrayal of Facebook co-founder Eduardo Saverin in "The Social Network." Did we mention Garfield beat out every other hot young actor in Hollywood for the coveted role of Peter Parker in Columbia's "Spider-Man" reboot.
6. WINNER: AMPTP
With SAG and AFTRA under "moderate," strike-resistant leadership these days, the Alliance of Motion Picture and TV Producers got pretty much whatever it wanted at recent contract negotiations.
7. LOSER: AMERICAN IDOL
You can't call a show a pure loser when it remains the most-watched on television, but this year's dribbling out of the new judges just wasn't up to the high standards for drama established by "Idol." Also, Fox seems to be turning the focus to the contestants in early previews for next season, playing video of Steven Tyler and Jennifer Lopez cheering them on. But going too nice would be a mistake. People have always tuned in because the real test of character has always been withstanding the now departed Simon Cowell's blunt honesty. Make the journey to the end too easy, and no one will care who wins.
8. WINNER: NETFLIX
The company saw it's major competitor Blockbuster file for bankruptcy and its stock nearly double. Everyone loves Netflix's streaming service, making a company that used to be identified with snail mail an unlikely Internet entrepreneur. Now the subscription giant has its eyes set on premium cable. Look out HBO, there's a target on your back.
9. LOSER: 3D
When "Jackass 3D" is the best live-action film presented in the format, you know it wasn't a great year for 3D. The format took its lumps thanks to movies like "Clash of the Titans," "The Last Airbender" and Wes Craven's dismal "My Soul to Take." While Disney's "Alice in Wonderland" and "Tron: Legacy" made plenty of money at the box office, I didn't hear anyone leaving the theater raving about the 3D in those films. The story was slightly different when it came to animated films such as "Toy Story 3," "Despicable Me, "How to Train Your Dragon" and "Tangled," but did 3D actually enhance the quality of those movies, or did it just allow theaters to charge more?

10. WINNER: BEN AFFLECK
Call him the Comeback Kid. Affleck went from sorry punch line to now being one of Warner Bros. main go-to directors, and is still fielding plenty of acting offers thanks to his grown-up performances in "The Town" and "The Company Men." He just finished shooting Terrence Malick's as yet, untitled romantic drama.
Steve Pond, Daniel Frankel, Leah Rozen, Tim Molloy, Brent Lang, Jeff Sneider, and Dominic Patten contributed to this article.